Recipes
BUFFALO CHICKEN MEATBALLS
BUFFALO CHICKEN MEATBALLS HOW TO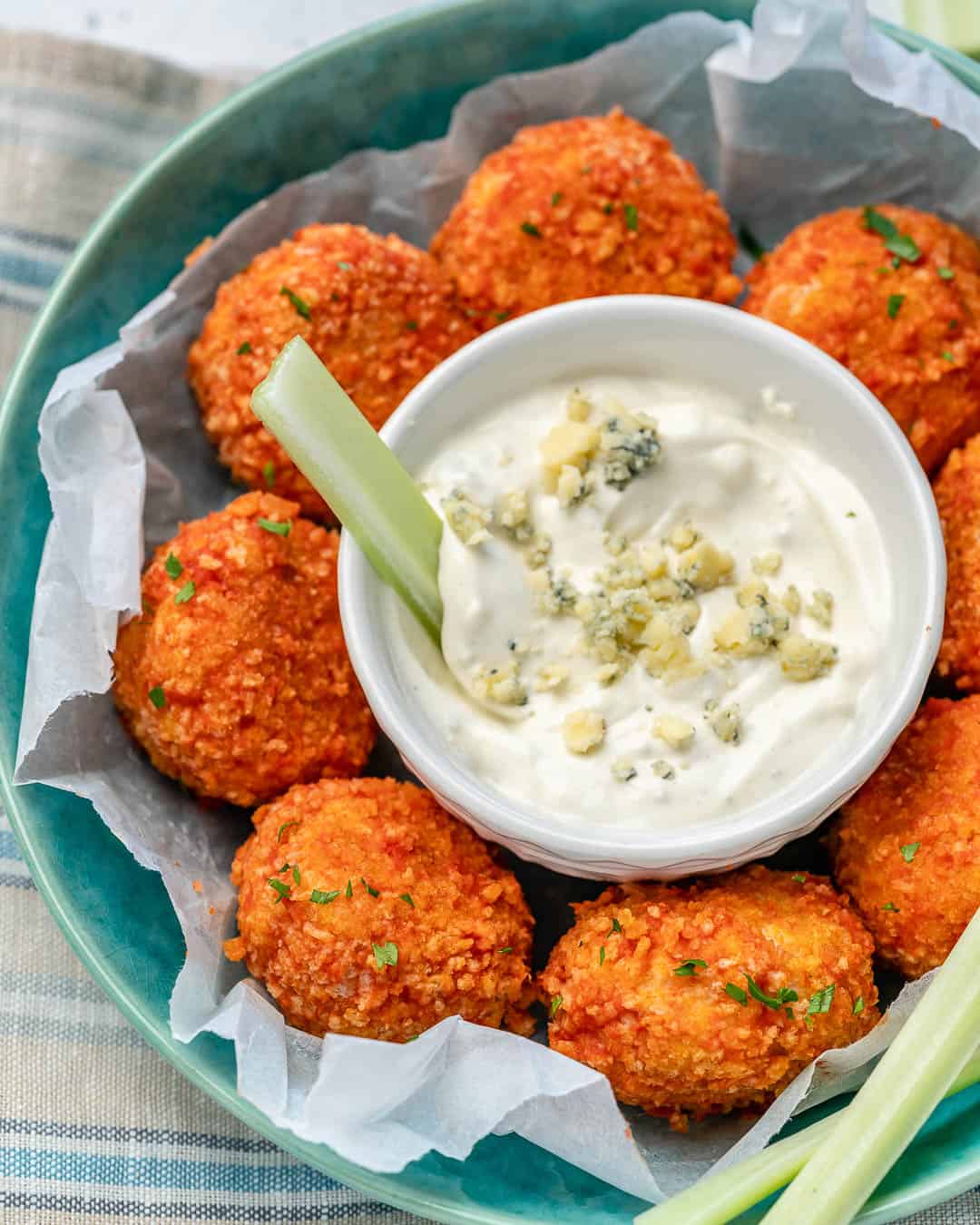 These Buffalo Chicken Meatballs are a lighter and healthier alternative to the traditional buffalo chicken wings. Tender chicken meatballs are easy to make, juicy, and so delicious. They can be enjoyed as a meal, a side dish, or as an appetizer for your guests.
This easy chicken meatball recipe is made with ground chicken or turkey meat, baked until crispy and then tossed with a homemade buffalo sauce. Served with a creamy homemade blue cheese dip, super tasty and simple to make, and perfect to serve as is or serve guests as an appetizer for game day or parties.
HOW TO MAKE CHICKEN MEATBALLS
Start by preparing a dip, in a small serving bowl, whisk yogurt, vinegar, salt, and pepper. Add crumbled blue cheese, gently fold and refrigerate until ready to use.
Next preheat the oven to 400F and line a large baking tray with parchment paper. Crack eggs into a bowl and lightly whisk for 30 seconds with a fork.
In a large mixing bowl, combine ground meat, 1 cup panko, beaten eggs and 1/3 cup of hot sauce. Add onion powder, garlic powder and season with salt and pepper to taste.
Using your clean hands, mix the meat until all the ingredients are incorporated and distributed evenly throughout the meat. You can also use a large wooden spoon or a spatula to mix.
Now rub your hands with some oil and pinch off a piece of meat mixture (about 1 tablespoon). Gently roll the meat between your palms to form 1-1/2-inch meatballs.
Dip the meatballs into the remaining panko breadcrumbs, gently pressing to coat on all sides. Place the meatballs into the prepared baking tray and lightly spray with cooking oil spray.
Bake for 12 minutes until nicely golden brown. Remove from the oven and pour the remaining hot sauce on top.
Toss to coat evenly, place the dish back into the oven and bake for additional 5-6 minutes, or until cooked through.
Serve the buffalo chicken balls with the blue cheese dip and your favorite veggie sticks. Enjoy!
WHAT TO SERVE WITH CHICKEN MEATBALLS
This healthy buffalo chicken meatballs can get served as an appetizer, enjoyed as is, or served as a side dish or along with other sides to make it into a complete meal. Here are some ideas of things you can serve with chicken meatballs:
Spaghetti or Zucchini Noodles (zoodles)
Cauliflower Rice
Make them into subs/sandwiches
Rice Pilaf
Corn on the cob
Roasted potatoes like this Baked Hasselback Potato recipe
Grilled Veggies like these Brussel Sprouts or this roasted cauliflower
Homemade Hummus
This Cauliflower Mash
Coleslaw or Salads – like this avocado cucumber tomatoes salad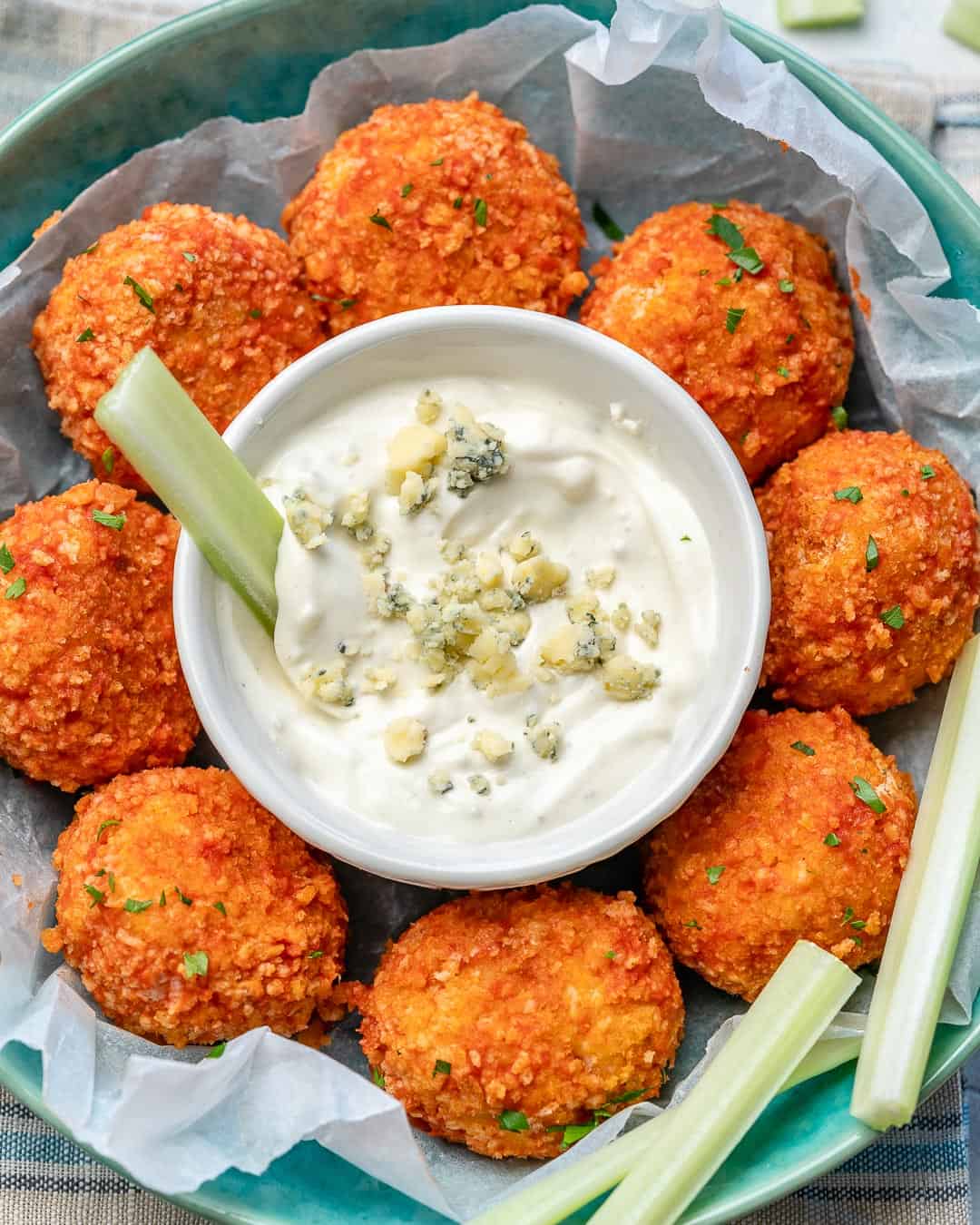 HOW LONG TO BAKE CHICKEN MEATBALLS
Chicken meatballs can be baked in the oven anywhere between 15-20 minutes at 400F. Make sure you spray the pan before adding the meatballs and then placing them in the oven to prevent the meatballs from sticking onto the pan.
WHY ARE MY MEATBALLS TOUGH
Any meats will shrink when cooked. It is no surprise that your meatballs came out tough if you didn't use any binders like breadcrumbs.  Use binders like breadcrumbs or blended oats to keep them tender and moist.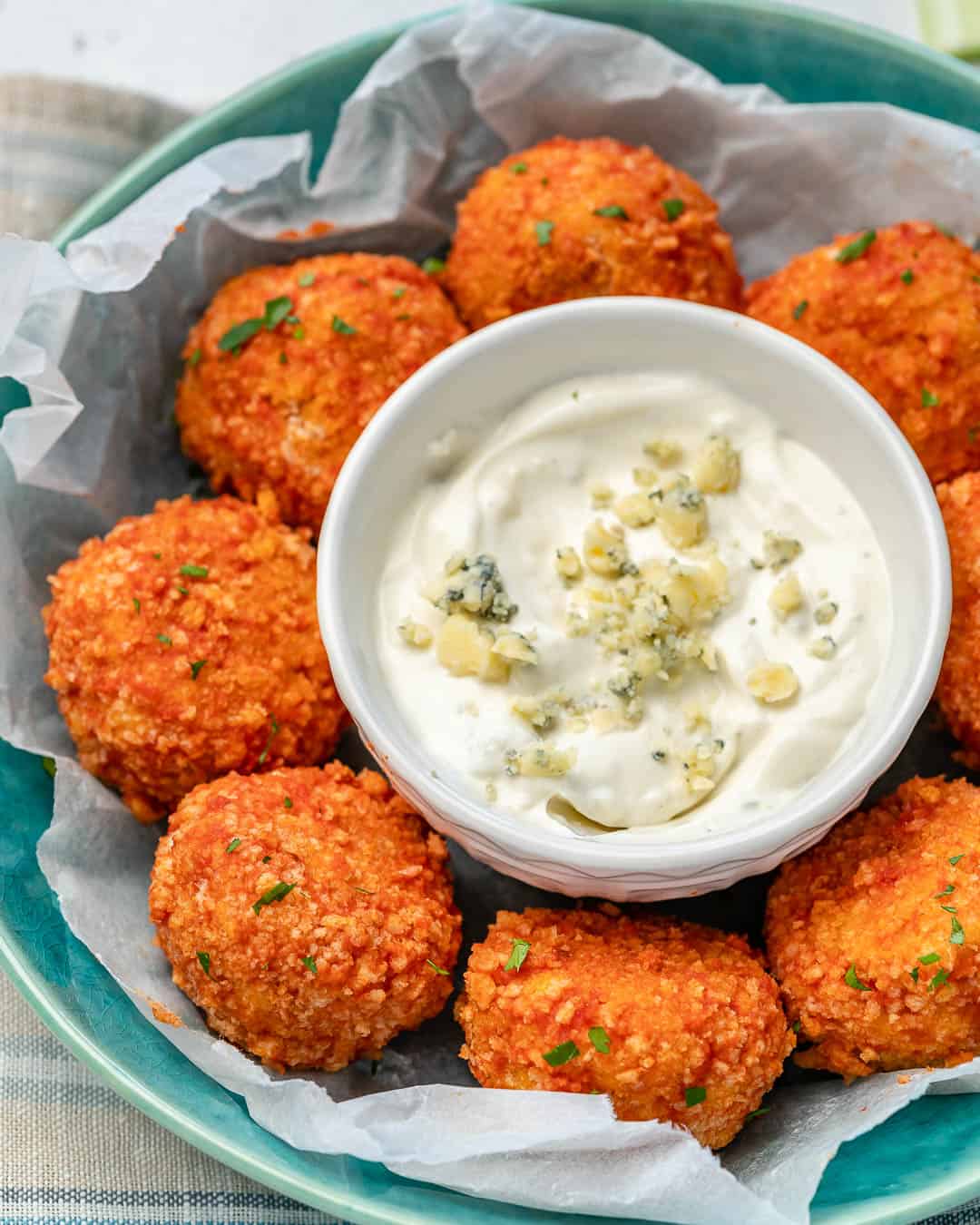 Let's make these Healthy buffalo chicken meatballs! If you do make them and love them as much as we do, please come back and leave us some feedback in the comments section below. Also, don't forget to share them with your friends and family on social media.