Meat recipes
CRANBERRY SAUCE CHICKEN MEAT BALLS IN
CHICKEN MEAT BALLS IN CRANBERRY SAUCE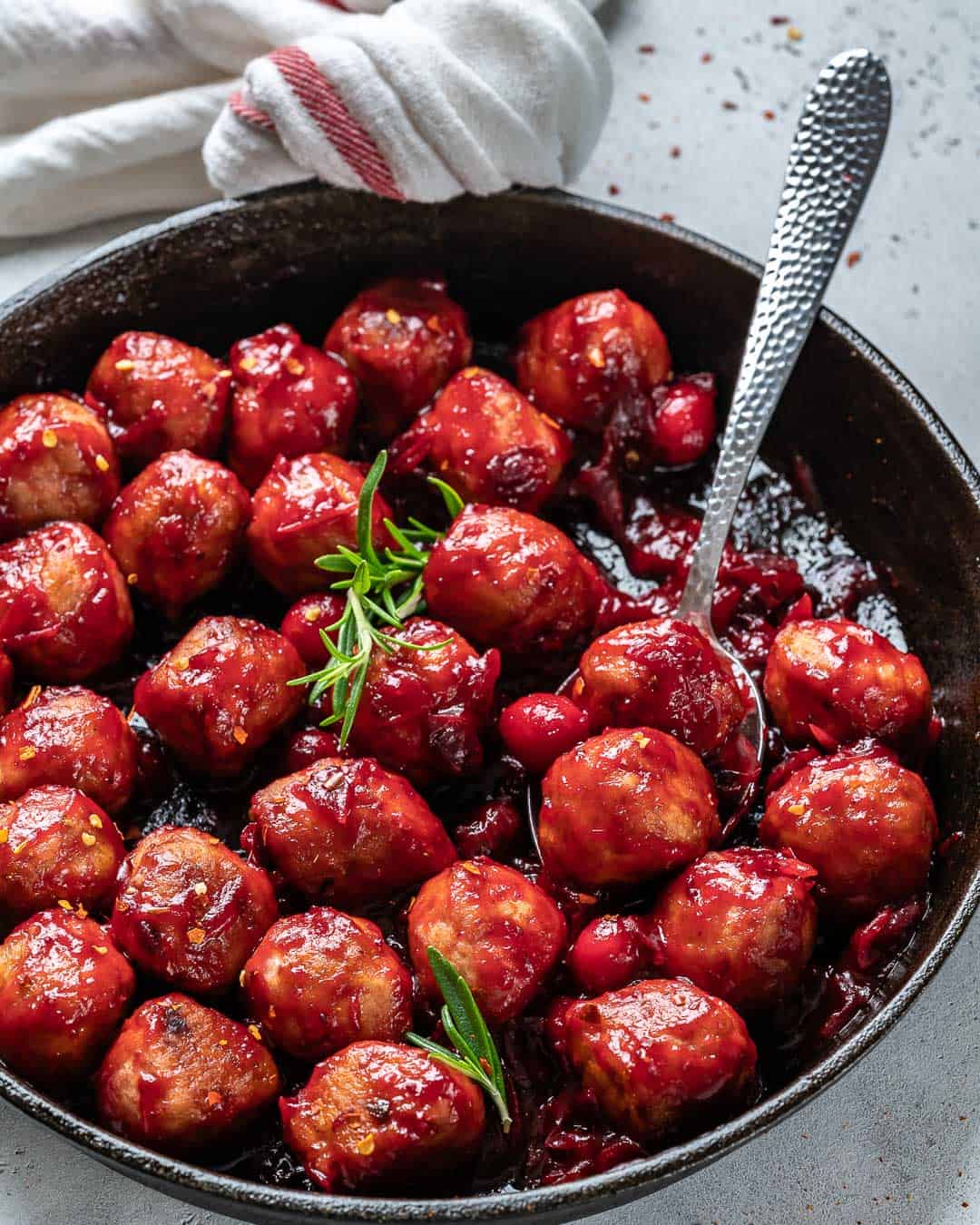 This Chicken Meatballs recipe is so juicy, tender, super tasty, and easy to make.  Cooked in one pan on the stovetop with a zesty sweet cranberry sauce. A quick and easy weeknight dinner recipe that is a great meal prepping throughout the week.
What a fun and tasty way to enjoy chicken meatballs! They are a hit with the pickiest eaters and a family favorite recipe that's packed with flavor. Cooked in one pan with no baking need on your stovetop and you can have dinner ready in just under 30 minutes. These meatballs are a perfect addition to any meal and they are great for meal prepping throughout the week.
You will love how easy it is to make this tasty Chicken meatball recipe which can either be enjoyed plain as is or served over rice, cauliflower rice, quinoa, spaghetti, sandwiches, zoodles, veggies and so on. A comfort food recipe at its tastiest. The best ground chicken meatball recipe ever!
HOW TO MAKE CHICKEN MEATBALLS
In a food processor add the meat chunks and pulse to chop. Add all the remaining ingredients and pulse again until meat is medium-fine.
Using wet hands form the meat mixture into about 1-inch balls. Gently roll them in flour, shaking any excess.
Heat a large non-stick pan over medium heat. Drizzle with about 2 Tbsps oil and carefully add in the meatballs.
Cook for about 2 minutes on each side, or until cooked through and golden-brown. Meanwhile, in a small bowl, mix cranberry sauce with remaining ingredients until well combined.
Then, pour the cranberry sauce and stir well. Reduce the heat to low and simmer until bubbly, about 5 minutes.
CHICKEN MEATBALL CRANBERRY SAUCE
1 (14 oz. can) cranberry sauce
1/4 cup honey
1 teaspoon chili powder
1/4 teaspoon cayenne pepper
1/2 teaspoon chili flakes
Kosher salt and ground pepper, to taste
2 Tbsp olive oil
1/4 cup whole wheat flour or gluten-free flour
MAKING THESE CRANBERRY CHICKEN MEATBALLS IN YOUR CROCKPOT
To make this chicken meatball recipe in your crockpot, pour the already mixed cranberry sauce ingredients in the crockpot. Then, add the browned meatballs and stir gently to combine. Cover and cook on high for 2 hours or on low for 4 hours.
HOW TO COOK CHICKEN MEATBALLS
There are a few ways to cook chicken meatballs. We will be talking briefly about some of the ways you can cook your meatballs.
Stovetop – Sautee or pan fry the meatballs over medium heat for about 3 minutes on each side
Grilled/roasted – You can grill or roast the meatballs in the oven over medium heat for about 12-15 minutes
Baked – Bake the chicken meatballs at 375-400 F in the oven for 15-20 minutes or until browned.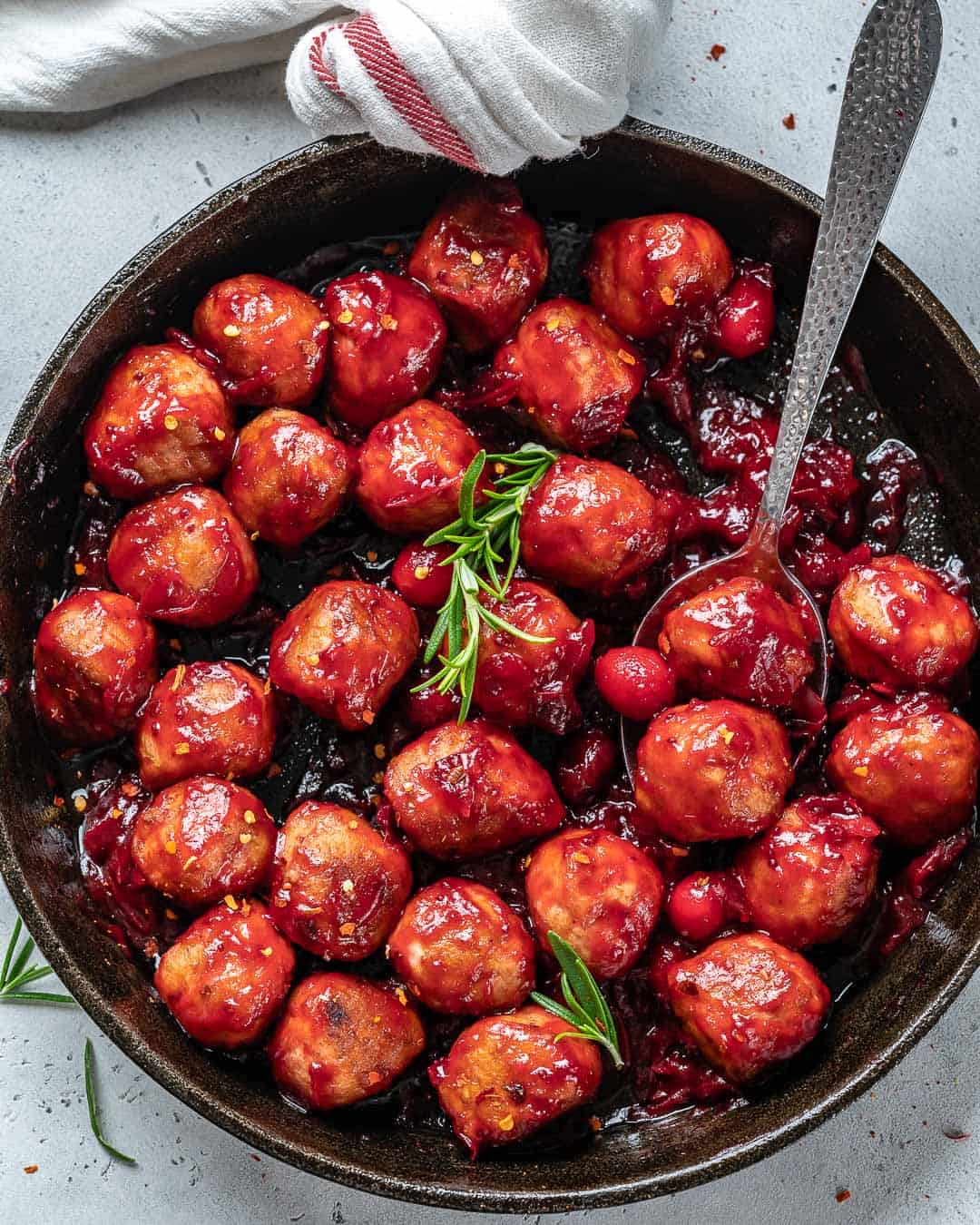 HOW LONG TO COOK CHICKEN MEATBALLS
Cooking time varies depending on the size of the meatball and the method of cooking your chicken meatballs. They usually need about 15-20 minutes baked in the oven or 5-10 minutes on the stovetop. If cooking on your stovetop, they need about 2-4 minutes per side depending on size.
WHAT TO SERVE WITH CHICKEN MEATBALLS
This chicken meatball recipe will seriously taste so good with whatever you serve it with. Here are a few ideas for you:
Cauliflower Mash
Quinoa or Rice
Veggies like green beans and broccoli
Creamy Mushrooms
Whole Roasted Cauliflower
Hasselback Potatoes
Keto Cauliflower Mac n Cheese
Roasted Sweet Potatoes
We would love to hear from you. Leave us some feedback in the comments below and let us know what your thoughts are about these Chicken Meatball recipe. Also, please don't forget to rate it and reshare it on social media.