Recipes
CREAMY CHICKEN NOODLE SOUP
EASY CREAMY CHICKEN NOODLE SOUP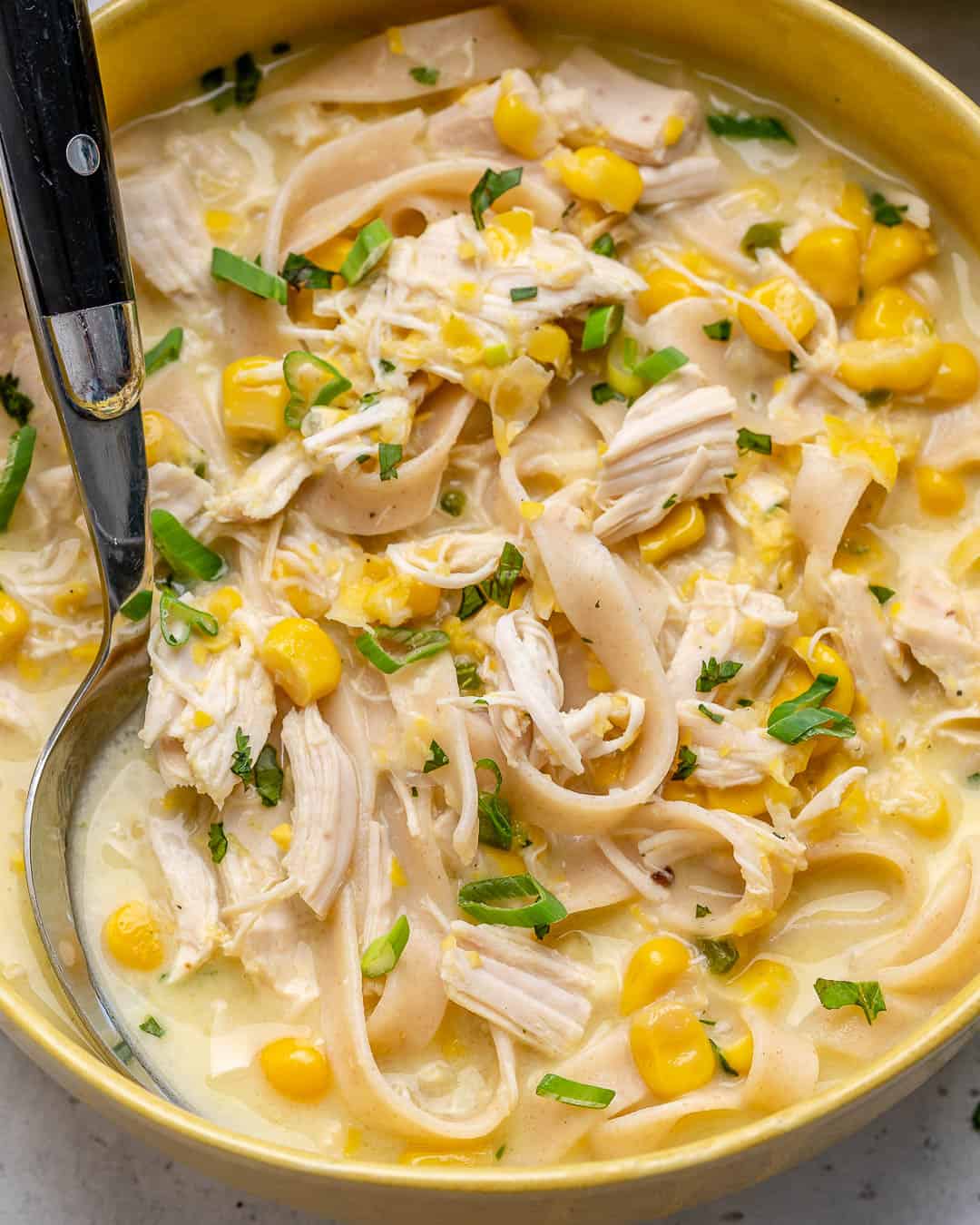 A deliciously rich and creamy Chicken Noodle soup recipe, easy to make and a perfectly cozy meal that's so tasty and filling. The ultimate comfort food that can be enjoyed as a side dish or a light lunch or dinner. 
Add a twist to the classic noodle soup by making it creamy style. Made from scratch, this creamy chicken noodle soup recipe is simple, tasty and so easy to make. Made with Rotisserie chicken, creamed corn, and coconut milk, this chicken noodle soup will put a smile on your face. Feel free to throw in more veggies like frozen peas and corn or some chopped celery.  Made with a few and simple ingredients, you can get this homemade chicken noodle soup on your dinner table in no time.
HOW TO MAKE HOMEMADE CHICKEN NOODLE SOUP
We used a Rotisserie chicken to make this hearty chicken noodle soup, but feel free to cook your own chicken breast and then shred before adding to the soup.
Remove the meat from the rotisserie chicken. Discard the bones and shred the chicken; set aside.
In a large saucepan, simmer creamed corn, together with chicken stock and garlic, over medium-high heat, for about 10 minutes.
Add in shredded chicken, coconut milk and let it simmer for an additional 4-5 minutes.
Meanwhile, cook the noodles in salty water according to package instructions. Once cooked, add the noodles to your soup.
Stir in green onions and jalapeño if using and cook for 1 minute more, until hot. Remove from the heat and ladle into bowls.
Garnish with some more green onions on top and serve warm.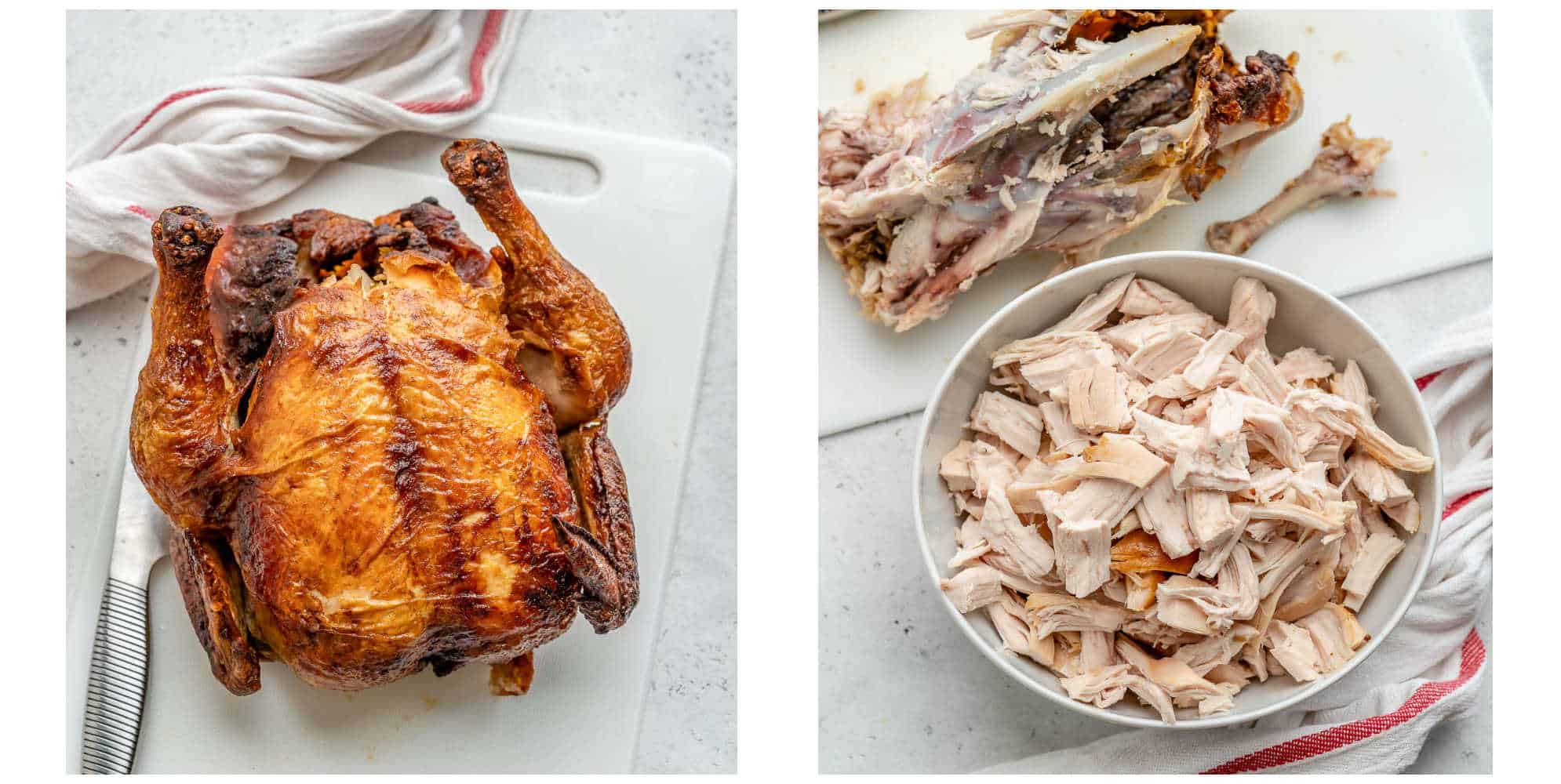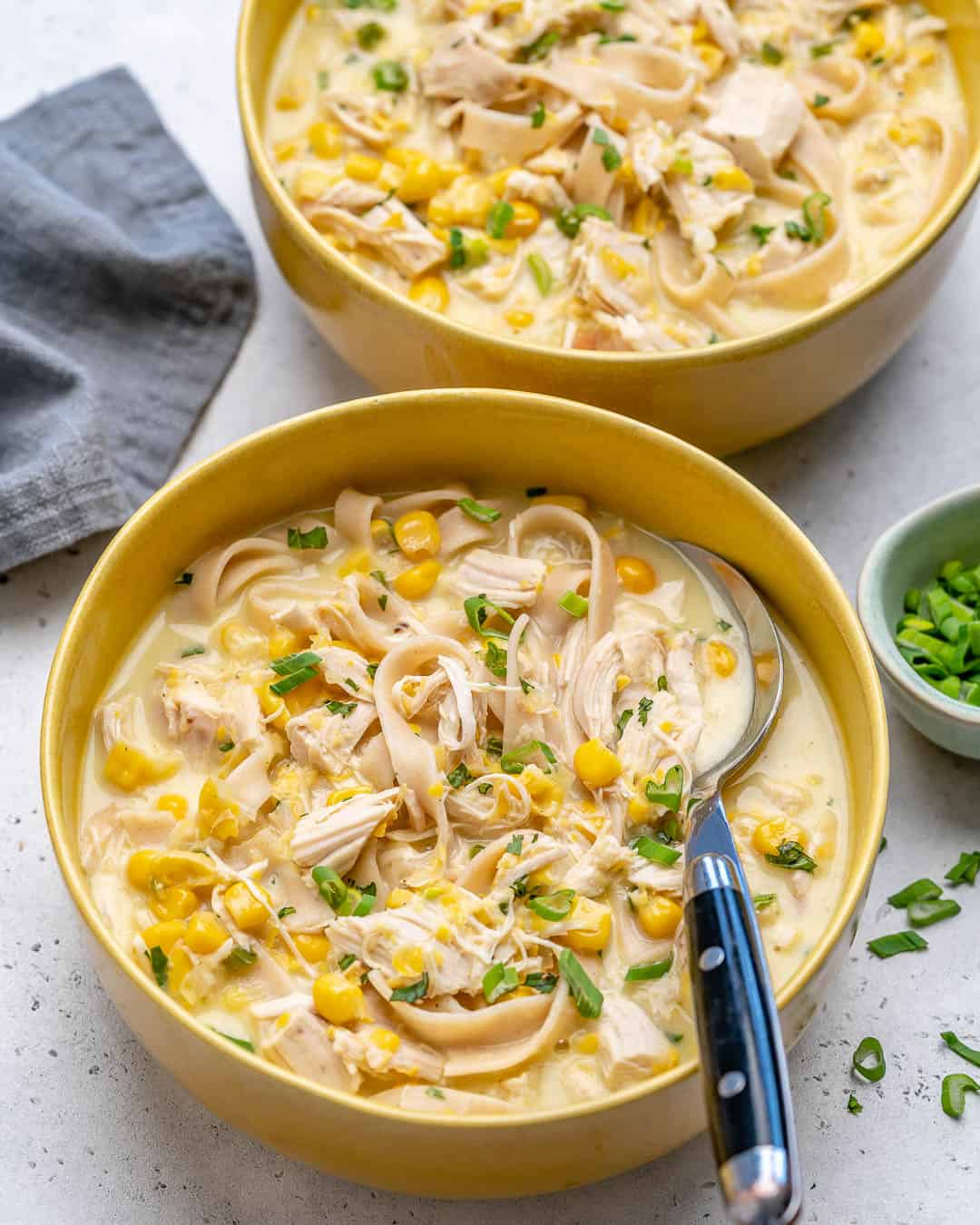 CAN YOU FREEZE CHICKEN NOODLE SOUP
Your homemade creamy chicken noodle soup can be stored in an airtight container and stored in the freezer for up to 3 months. Thaw in the fridge the night before and reheat in a pot or saucepan when ready to serve. You may also store in a freezer-safe Ziploc bag before freezing.
HOW TO THICKEN CHICKEN NOODLE SOUP
If your chicken noodle soup is almost done but still looks watery, there are a few things you can do to get it thicker. You may use some corn starch or some sort of flour. First, you have to mix either the flour or the corn starch with a bit of broth or water before adding it to the pot of soup. This will prevent the starch or flour from clumping up.
Another way to thicken soup is to blend some of the veggies you are using in the soup. This doesn't pertain to this particular chicken noodle soup recipe. But if the soup contains some potatoes and carrots, you may remove some, blend, and toss it back into the soup to create some thickness.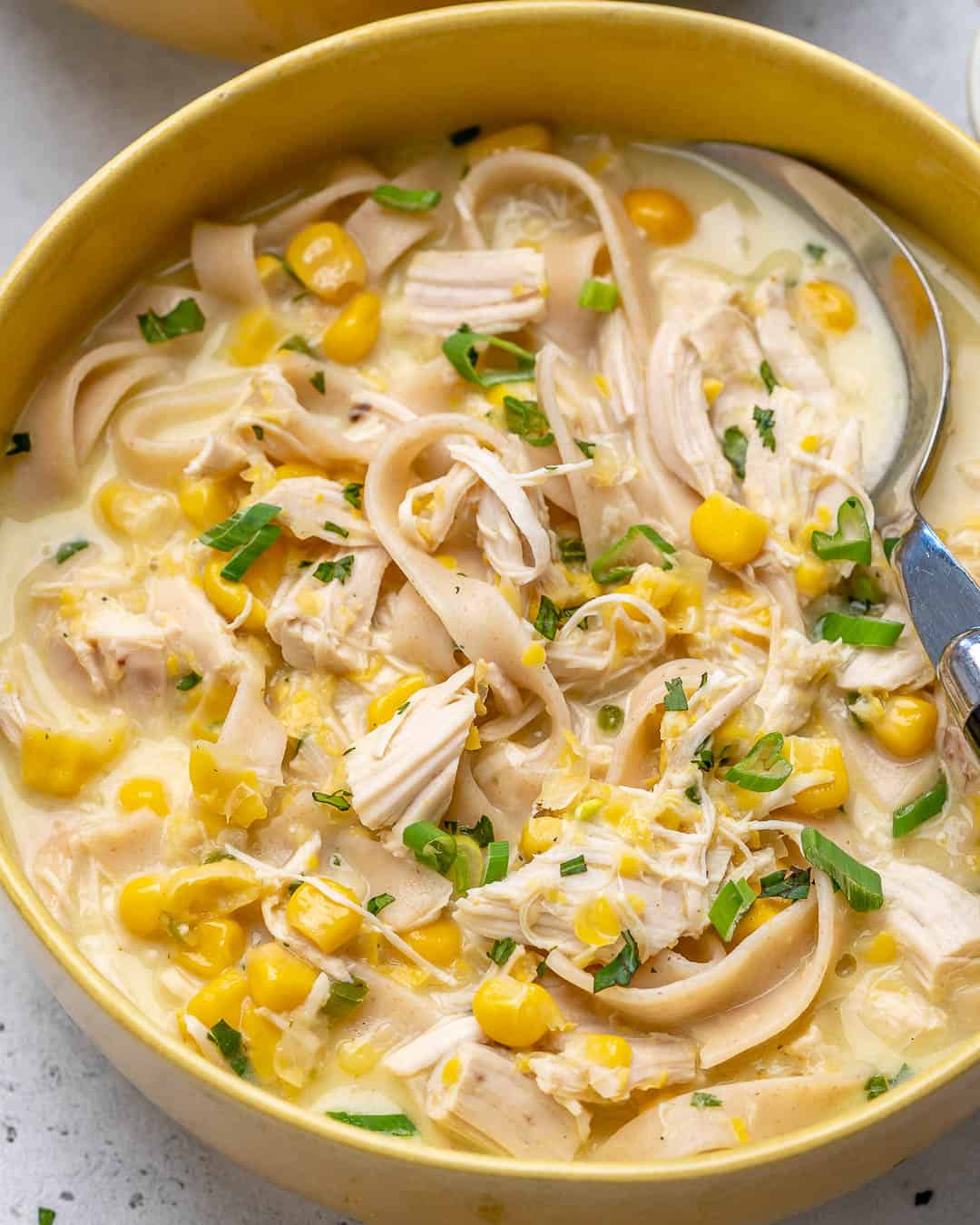 WHAT GOES WITH CHICKEN NOODLE SOUP
You may get creative with what you serve with your chicken noodle soup. Some may like to enjoy it as is or some may like to serve it with another dish. Here are some ideas of things that can go with your chicken noodle soup:
Toast, or freshly baked bread or buns
Grilled sandwiches like grilled cheese
Corn Bread or Biscuits
Garlic Bread
Grilled veggies
A side of salad
Crackers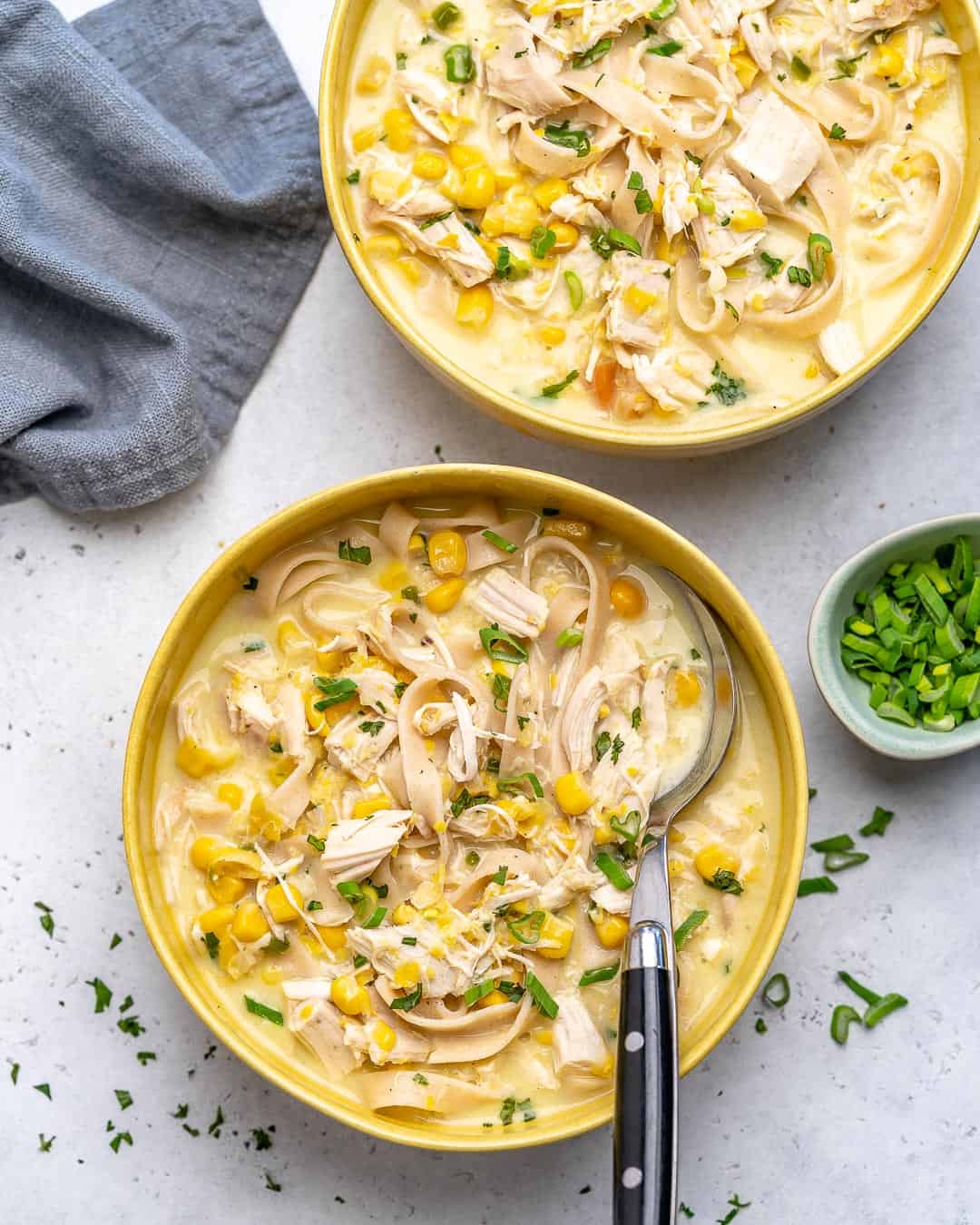 HOW TO COOK CHICKEN FOR CHICKEN NOODLE SOUP
The lazy and quick route is to use a rotisserie chicken! But that's certainly not your only option! You can make and prepare your own chicken for your chicken noodle soup. Not sure how to poach some chicken breast, he is what you need to do.
Bring a pot of water to boil
Add the chicken breast in the pot
Toss in some herbs for flavor, any kind you have – black pepper (ground or whole), onion, cinnamon (stick or ground), cardamon, bay leaf, and/or cloves.
Allow it to bowl for 15-20 minutes.
Remove the from the pot, let it cool and then shred.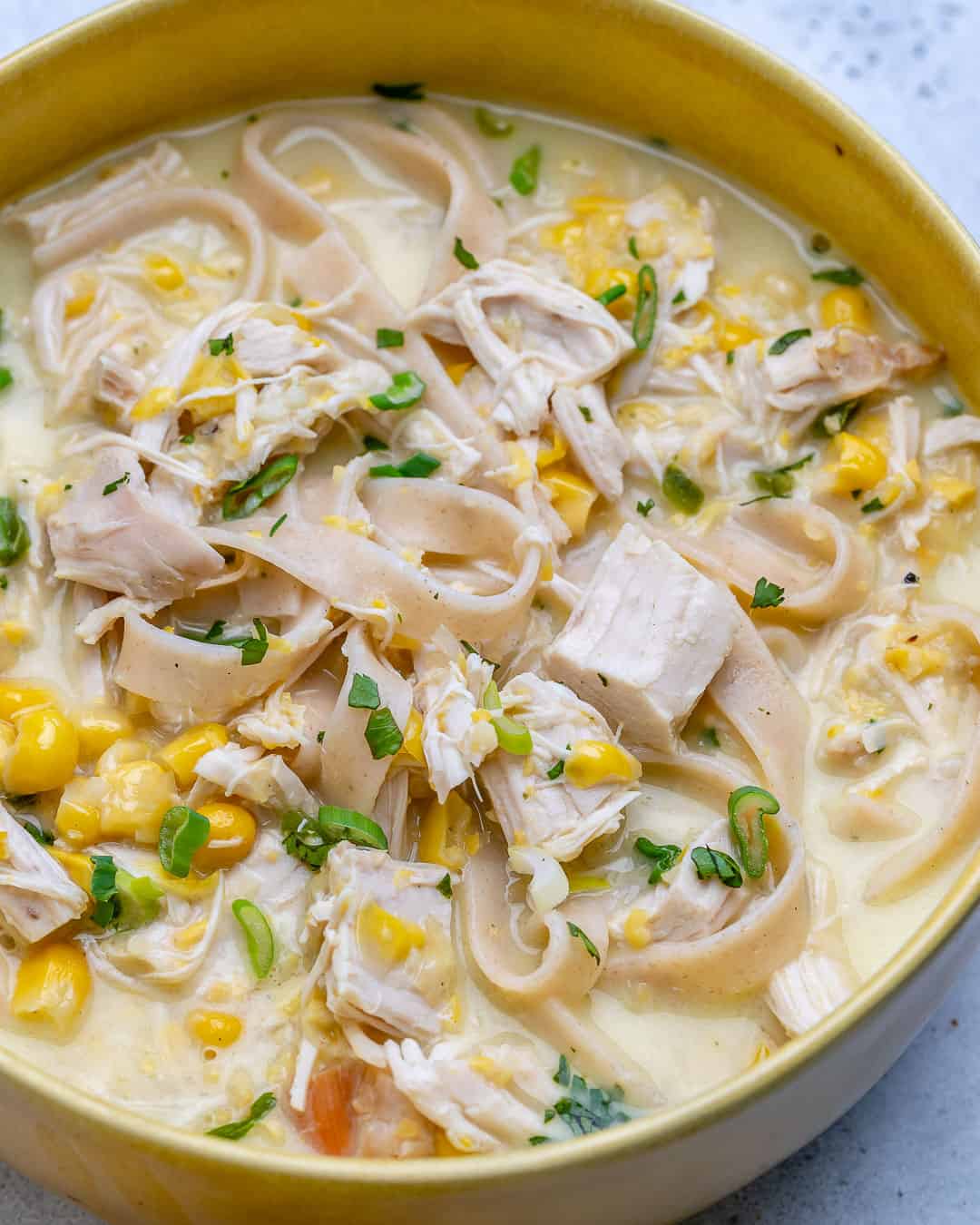 Did we forget to mention this creamy chicken noodle soup can be made gluten-free by using gluten-free noodles? You will love how easy it is to make this delicious soup. Leave us some feedback in the comments section below if you make this soup. We would love to hear from you.