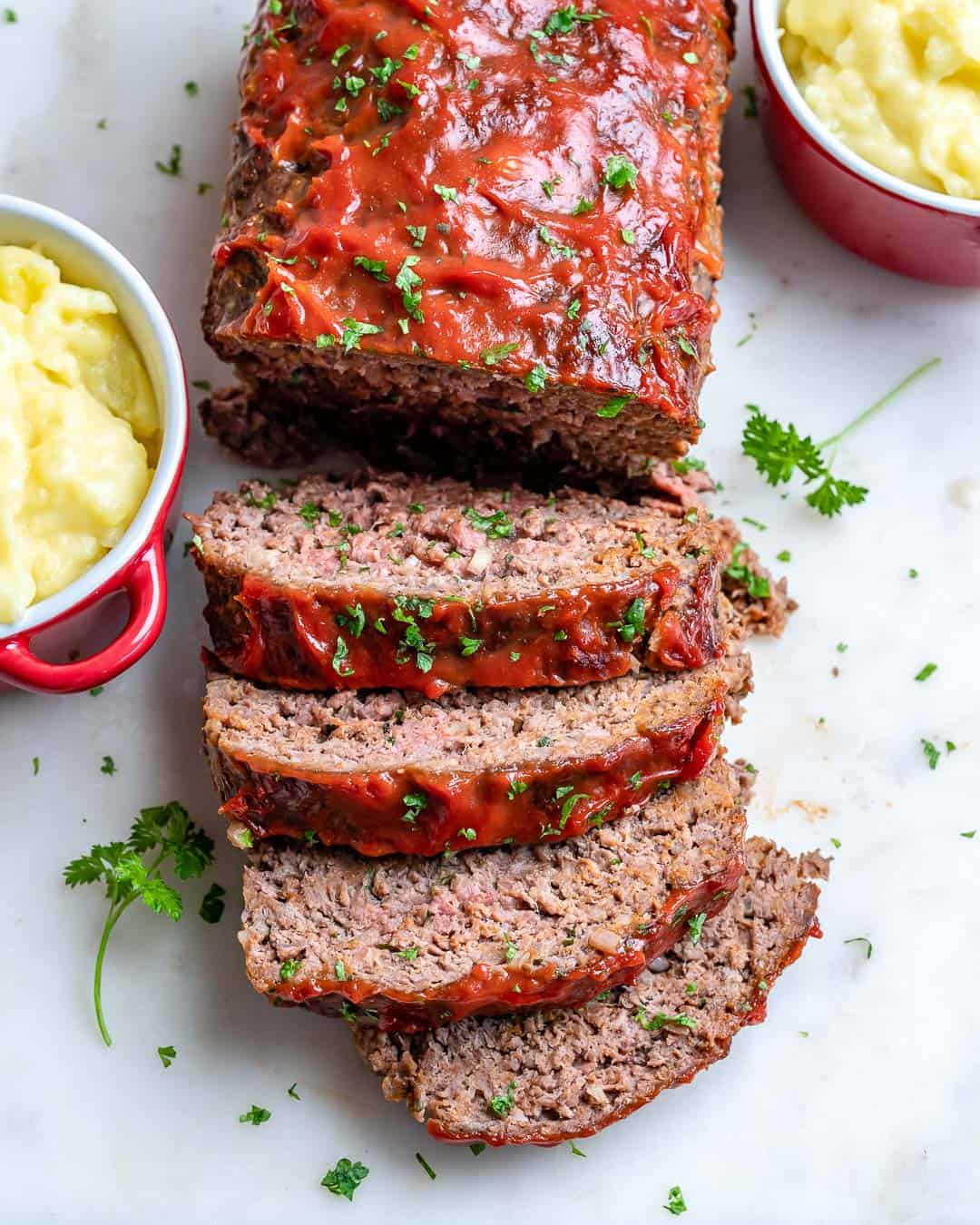 This Classic Homemade Meatloaf recipe is easy to make, tender and juicy and made without any sugar. It's full of flavor and everyone's comfort food that makes for a perfect meal the whole family will enjoy. A great addition to add to your meal prep menu.
A basic meatloaf recipe that's bursting with flavors, made with lean ground beef with a sweet and tangy glaze topping. So easy to make, all you need to do is mix the ingredients together and pop in the oven, sit back and let the oven do most of the work for you. So tender and juicy, this easy and healthy homemade meatloaf recipe will be the best meatloaf recipe you will ever have. The ideal comfort food for any time of the year and perfect for a weeknight dinner or a potluck. Literally the best meatloaf ever!
HOW TO MAKE HOMEMADE MEATLOAF
Meatloaf Ingredients:
Lean Ground Beef (chicken or turkey works)

White or Yellow Onion
Eggs
Garlic
Breadcrumbs
Ketchup
Milk
Seasonings: Salt, pepper, Italian seasoning, paprika, parsley
How to:
Preheat Oven: Preheat the oven to 375° F and line a 9×5-inch loaf pan with parchment paper, leaving about an inch of overhang on both sides. This will help to easily remove the meatloaf from the pan.
Mix meat ingredients: In a large mixing bowl, use clean hands to combine the ingredients for the meatloaf. Mix until well combined.
Place meat in the pan: Transfer the meat mixture to the prepared loaf pan, pressing to shape it to the inside of the pan making sure there are any air pockets left.
Bake: Then, bake the meatloaf in the preheated oven for 40-50 minutes.
Make Glaze: While the meatloaf is baking, prepare the glaze. In a small bowl, combine the ingredients for the glaze, and stir to combine. Pour the glaze over the top of the meatloaf, and spread to evenly distribute it.
Bake again: Return the meatloaf to the oven and bake for an additional 15-20 minutes, or until the glaze is caramelized but not burnt.
Cool Down: Rest for 10 minutes, then use the overhanging parchment paper to remove the meatloaf from the pan.
Serve: Slice the meatloaf, and garnish with freshly chopped parsley. Enjoy!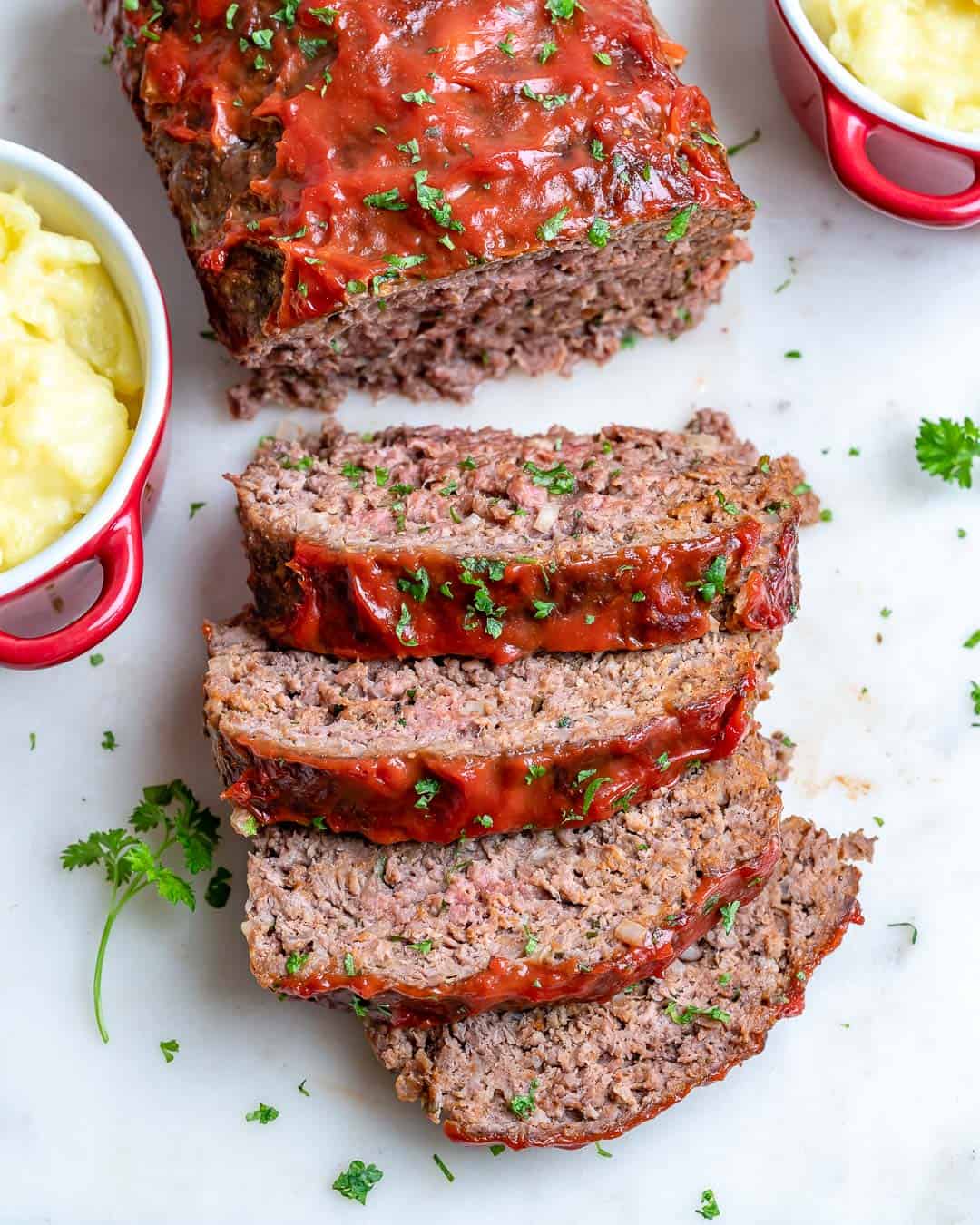 MEATLOAF GLAZE INGREDIENTS:
The Meatloaf glaze is optional and you can always opt for gravy instead. But the glaze is just so good and adds that perfect sweet and zesty flavor to the meatloaf.
3/4 cup sugar-free ketchup
1 tsp. white vinegar
1 tbsp. dijon mustard
One tbsp. raw honey
A tsp. garlic powder
1/2 tsp. onion powder
1/4 tsp. freshly ground black pepper
1/4 tsp. salt
Add all the above ingredients in a bowl and mix to combine. Then spread over the already baked meatloaf.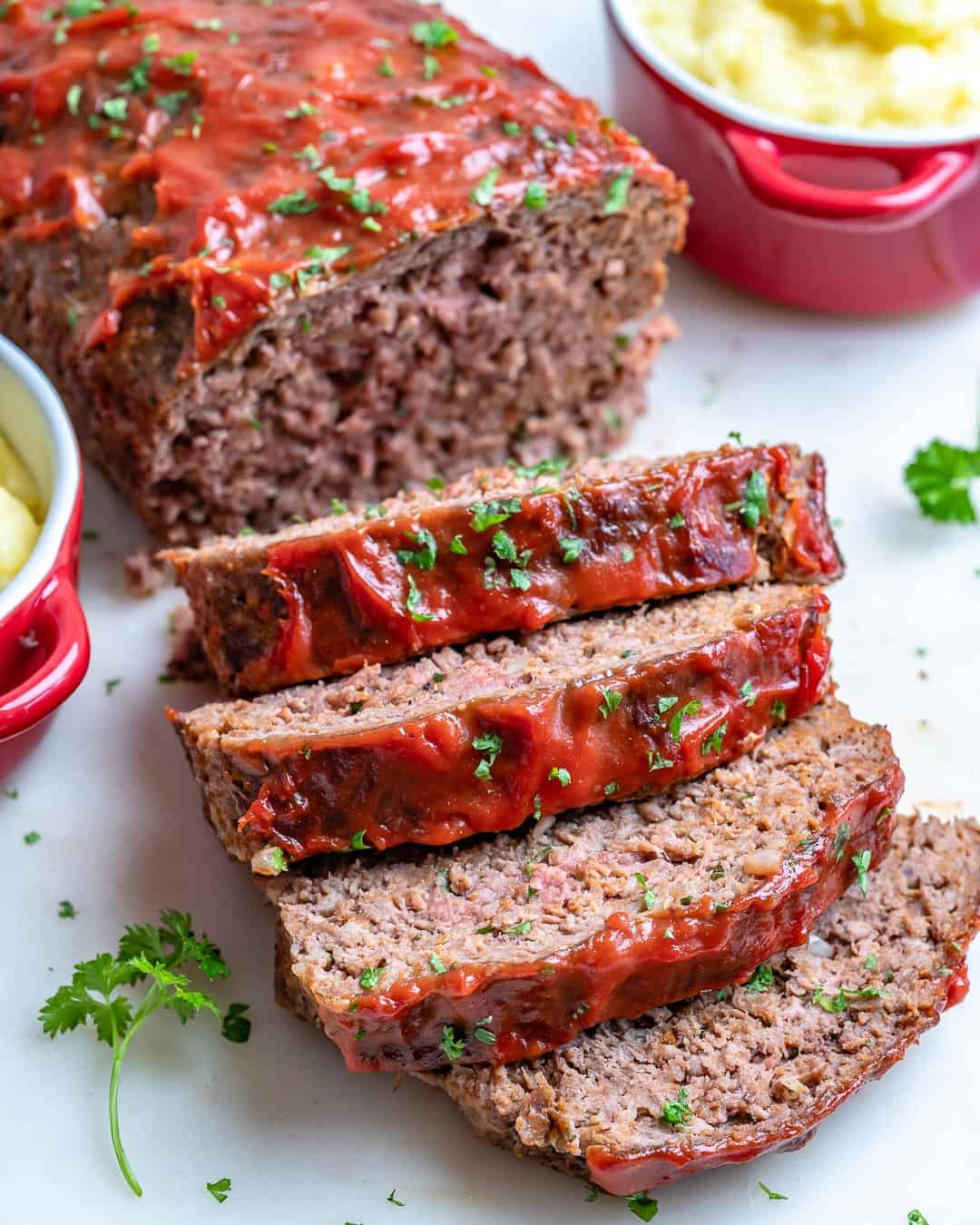 SOME TIPS AND SUBSTITUTIONS TO CONSIDER WHILE MAKING THIS CLASSIC MEATLOAF RECIPE
For Gluten-free meatloaf option, use either gluten-free crumbs, or go for quick oats. Also, try diced veggies like cauliflower.
You may substitute the beef with ground turkey or chicken
Don't forget to put a parchment paper on the pan before adding the beef which will make it easier to remove from pan when cooked. (see below image)
You may soak the breadcrumbs with the milk separately and let it stand for a few minutes until it becomes mushy before adding with other ingredients.
Egg substitutes for meatloaf: light mayo (3 tablespoons per egg), plain yogurt (3 tbsp per egg), 1/4 cup ricotta cheese per egg, or a bit more oats and breadcrumbs will do the trick to work as a binder.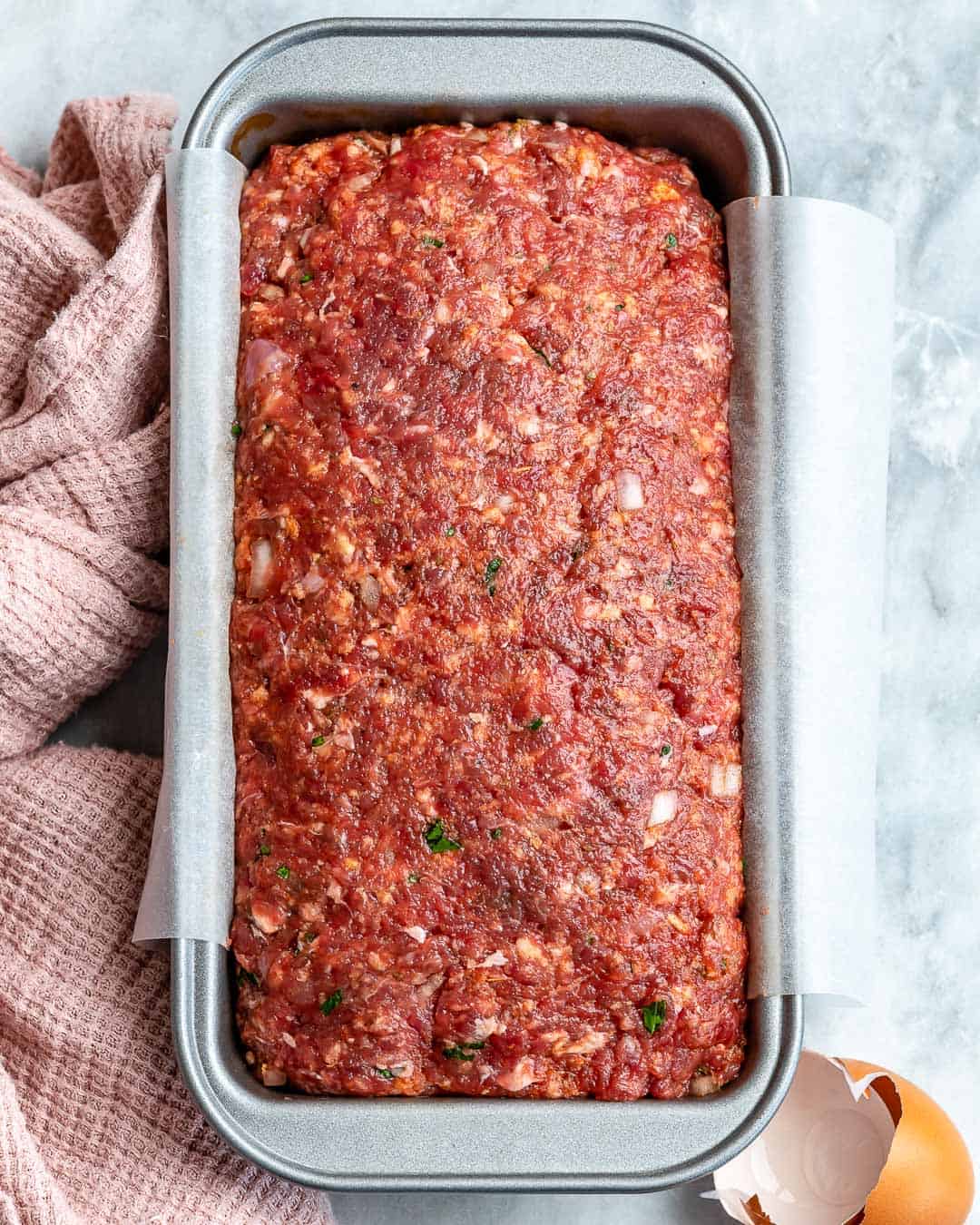 FREQUENTLY ASKED QUESTIONS
There are so many questions about meatloaves. If we didn't cover a question you have, leave us a comment below with your question and we will get back with you.
WHAT TEMPERATURE IS MEATLOAF DONE
Bake meatloaf at 375 Degrees F for 40-60 minutes or until the internal temperature of your meatloaf reaches 160 F in the center to make sure it is well done and not too pink on the inside. You will need a food thermometer to check this temperature. If you don't have one, be sure to allow the meatloaf to cook at least 50 minutes.
CAN YOU FREEZE MEATLOAF
Meatloaf can be frozen raw or cooked for up to 3-4 months. Tightly seal and wrap meatloaf with plastic wrap before storing it in the freezer. Once ready, remove frozen meatloaf a day before and allow it to thaw in the fridge before baking or reheating in the oven. Meatloaf is a great make-ahead recipe that can be prepared ahead and cooked when ready to serve.
HOW LONG DO YOU COOK MEATLOAF
Expect to bake your meatloaf at least 40 minutes. At 350 degrees F, a 2 lb meatloaf will take 50-60 minutes. so a 3 lb meatloaf will take 1 and a half hours. At a higher temperature of 375 F, it will take 10-15 minutes. The best way to check for doneness is to use a food thermometer and wait till the meatloaf reaches an internal temperature of 160F when tested in the center.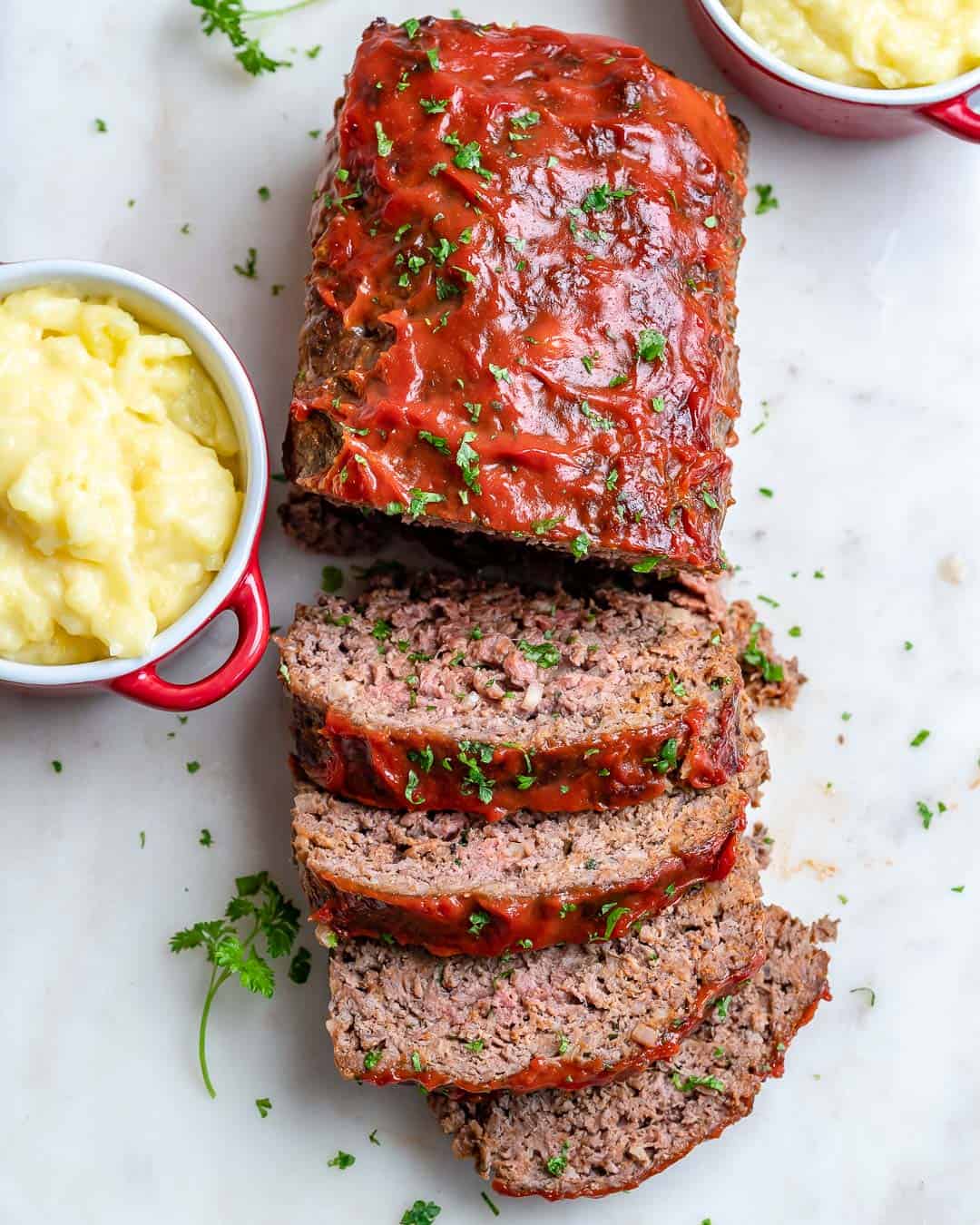 WHAT TO SERVE WITH MEATLOAF
Here are some side options to serve with meatloaf
Mashed potatoes or cauliflower mash
Sweet potatoes: Baked, mashed, or roasted.
Baked sweet potato fries
Roasted or sauteed veggies like this Garlic Mushrooms or Brussel Sprouts
Salads: like this Chickpea salad
DO YOU COOK MEATLOAF COVERED OR UNCOVERED
We prefer not to cover the meatloaf while baking and we did not do so for our homemade meatloaf recipe. Some may argue that it is best to cover the meatloaf to cook faster and retain moisture. Covering the meatloaf does help it retain moisture. So if you prefer, you may cover the meatloaf lightly with aluminum foil for the first 30-40 minutes and leave it uncovered until it is cooked through.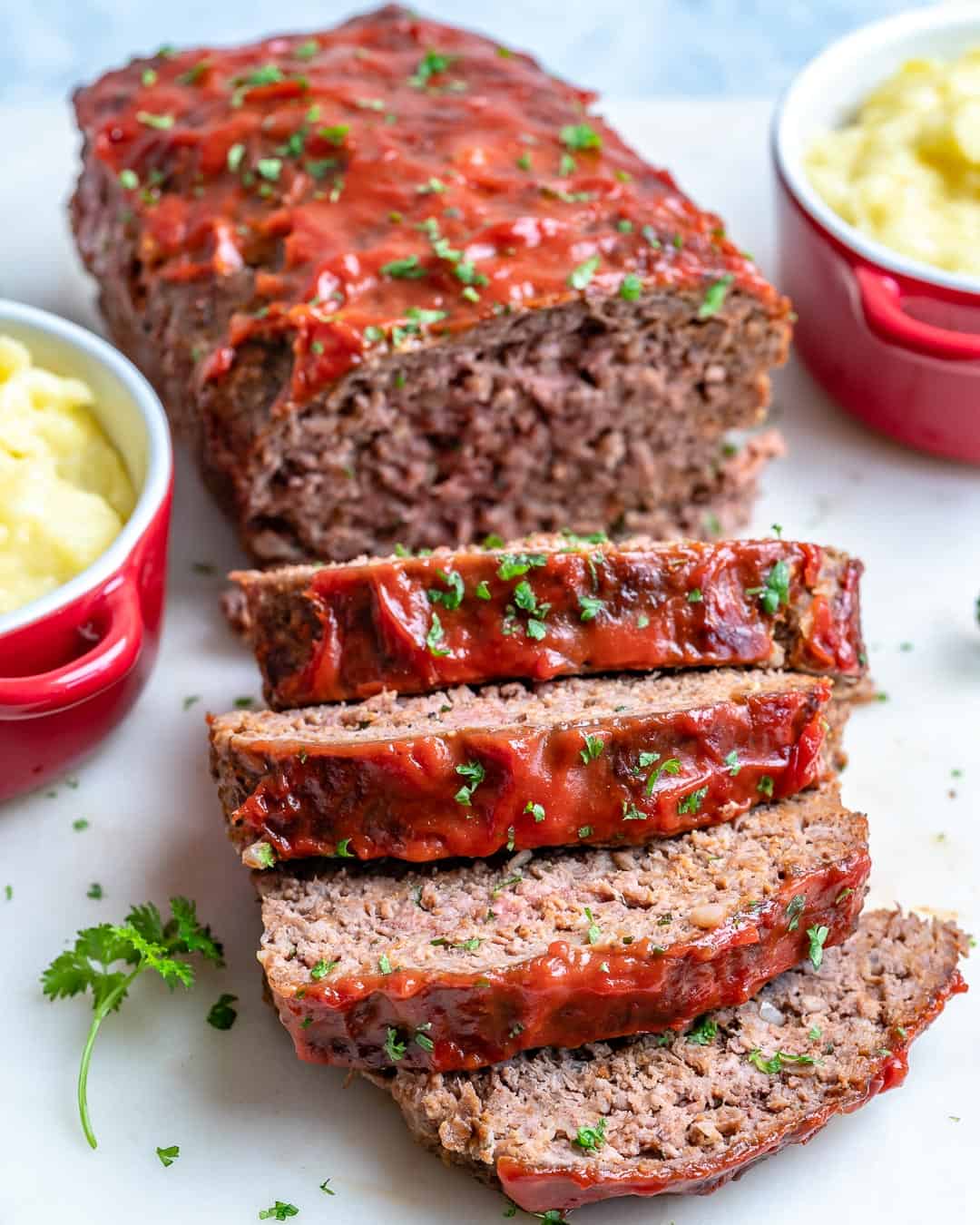 We would love to get some feedback if you made this healthy homemade meatloaf recipe. Please leave us a comment below and don't forget to rate it. Also, if you loved this recipe, please share it with your friends and family.