Recipes
HOW TO MAKE SHRIMP CEVICHE
SHRIMP CEVICHE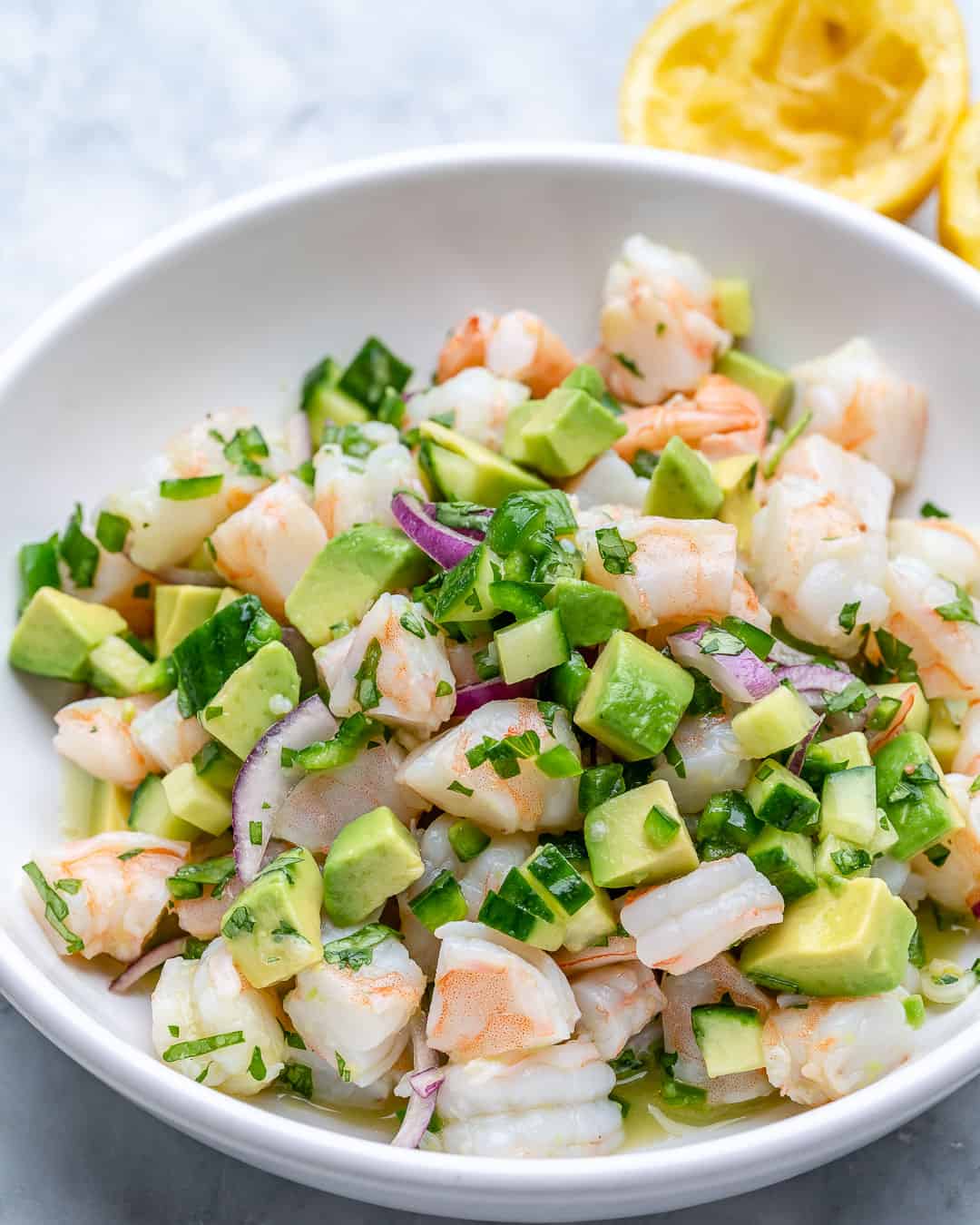 We will be showing you how to make this easy and simple shrimp ceviche. Light, fresh, and flavorful with no cooking required. Made with simple ingredients and the perfect appetizer for a crowd. Ceviche is low in carbs and thus ket0-friendly.
This easy shrimp ceviche recipe is made with shrimps, avocado, cucumber, onions, Jalapeño, cilantro, and lime. It takes just about 15 minutes or less to put together and very flavorful. Also, we prefer using pre-cooked shrimps to make our ceviche, but you may use raw shrimp and allow to cook in the lemon and lime juice. Either way, you go with will depend on your preference. We almost always use pre-cooked shrimps. Furthermore, this is the best ceviche recipe you will ever and we know you will love it as much as we do.
HERE IS HOW TO MAKE SHRIMP CEVICHE
First, set up all the ingredients
Next, dice the cucumber, onion, peppers, and cilantro, and avocado.
Then, chop the shrimps. You may rise pre-cooked, or raw shrimps. We used pre-cooked shrimps.
Place the shrimps in a glass bowl. Add in the lime and lemon juice and let it stand refrigerated for 15 minutes.
Next, stir in the chopped veggies, and mix well.
Finally, cover and refrigerate for 2-3 hours to allow the flavors to nicely meld.
WHAT IS CEVICHE
The origin of ceviche is a debate but said to have originated from Peru. Ceviche is a seafood dish/appetizer that's made from a variety of raw fish that's been cured/cooked in citric juices like lemons or lime. Also, other ingredients used in making ceviche are onion, chili or jalapeno, salt, cilantro, and coriander. Usually served cold as an appetizer.
IS CEVICHE COOKED
The fish or shrimps used in making ceviche is raw and it is allowed to marinate "Cook" in the lime or lemons. The raw fish need to soak for at least 15 minutes in the citric juices in order to fully cook. Some will use pre-cooked shrimps to make ceviche as we did on our ceviche recipe.
IS CEVICHE HEALTHY
All ingredients used in making ceviche is healthy and clean. It is low in carbs and great for those that are on a keto diet. Besides that, enjoy as an appetizer, side dish, or a light lunch.
HOW TO PRONOUNCE CEVICHE
So many pronounce ceviche wrong. The correct way to pronounce ceviche is 'she-vee-chay'.
HOW TO COOK SHRIMP IN CEVICHE
The shrimps are "cooked" by marinating them in lemon or lime juice. The acid in the lime juice breaks down the protein, turns the raw shrimp pink and firm. You may use pre-cooked shrimp to make shrimp ceviche.
HOW LONG DOES CEVICHE LAST IN THE FRIDGE
Shrimp ceviche lasts 2 days in the fridge. Store in an air-tight container and enjoy cold when ready to eat. Keep in mind the avocado my get a discolored. If using pre-cooked shrimps, tomatoes and no avocados, you can store for up to 4 days in the fridge.
CAN YOU FREEZE CEVICHE
Shrimp ceviche will not freeze well so we don't recommend freezing it. Serve and enjoy right after making and if you must store any leftovers, you can store in the fridge for a couple of days.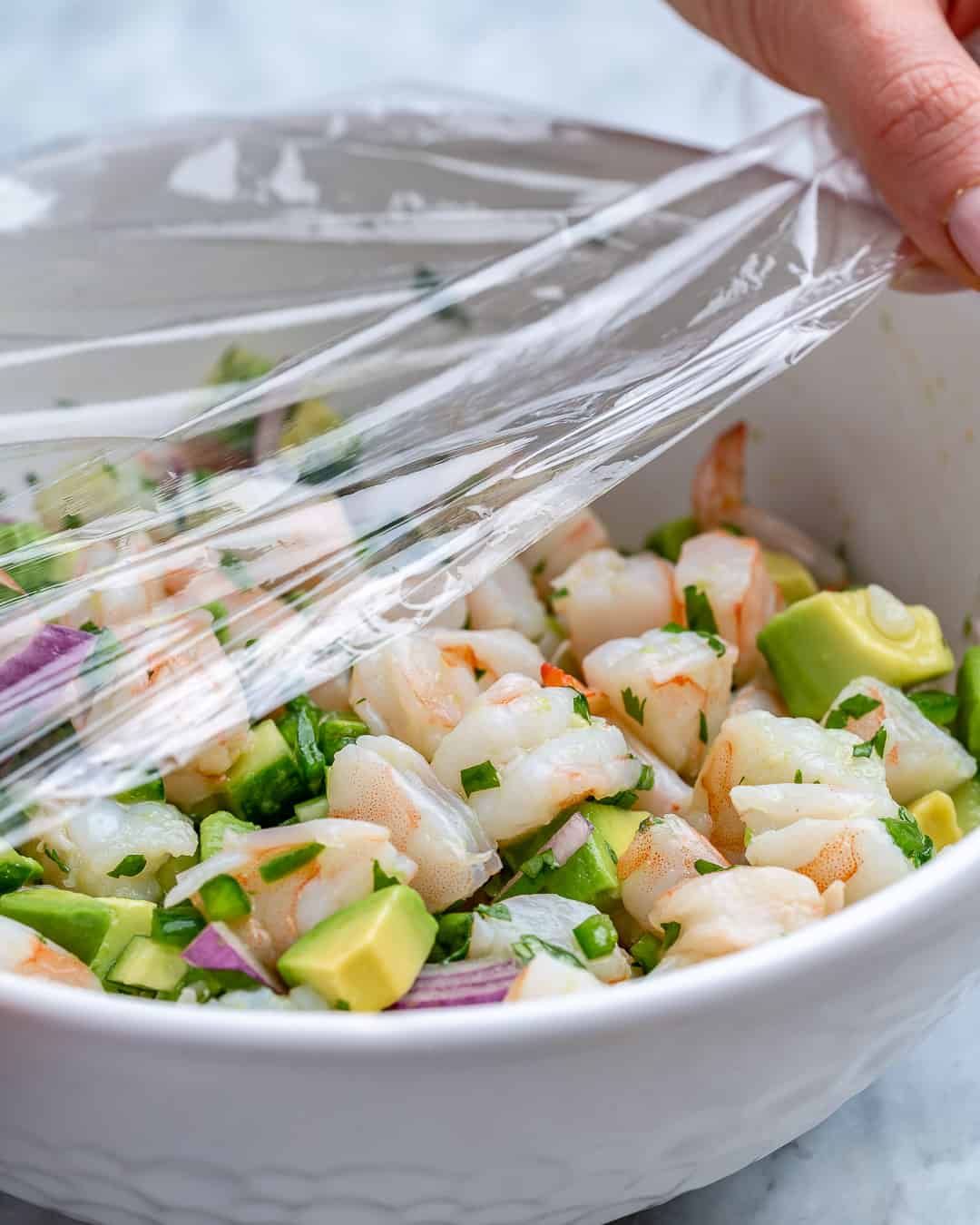 Most importantly, we crave this shrimp ceviche all the time and hope you find this how-to make shrimp ceviche post easy to follow and helpful. We would love to hear from you in the comments section below. Please let us know what you think of this shrimp ceviche if you make it. Also, don't forget to share it with friends and family on social media.