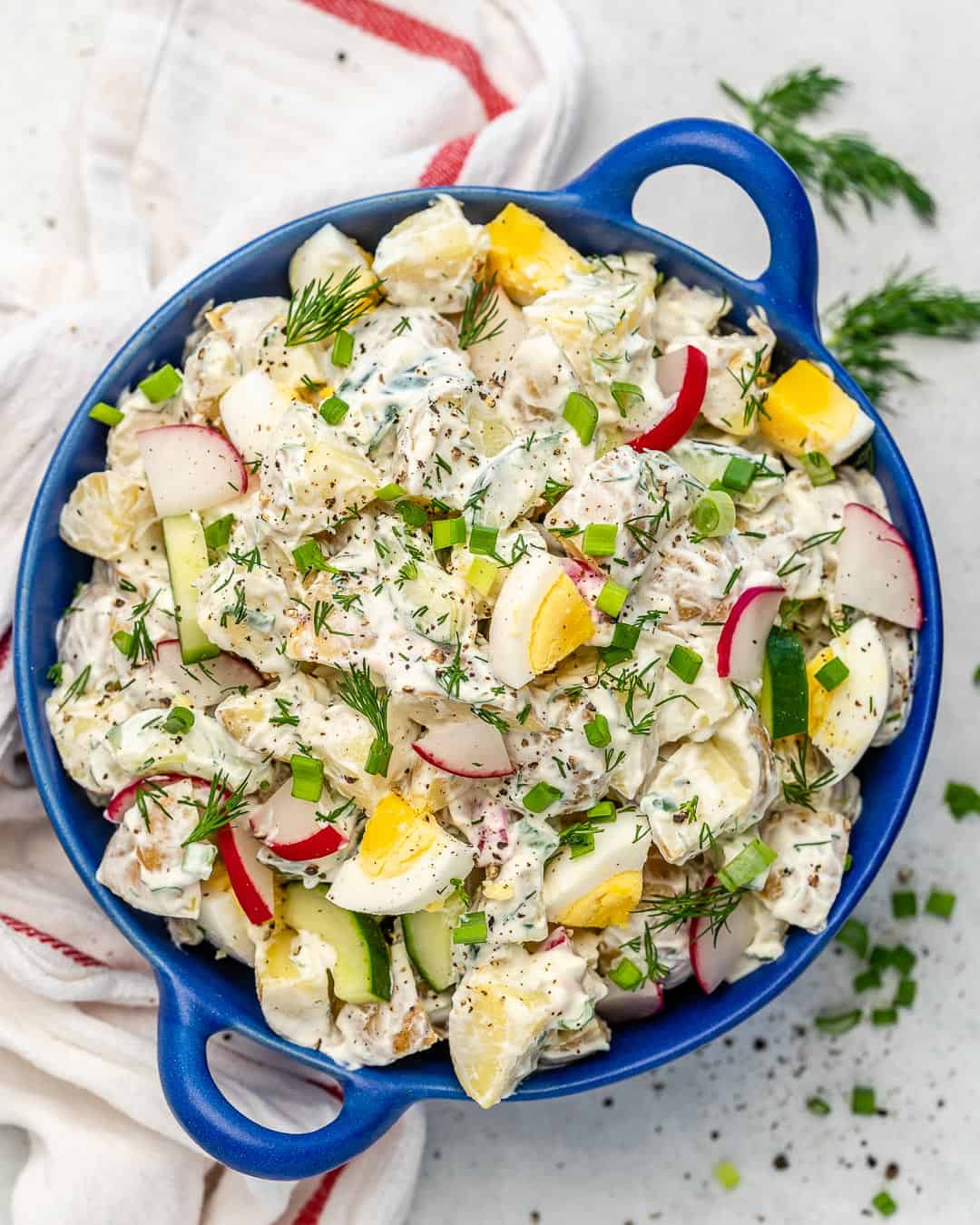 This Healthy Potato Salad is creamy, flavorful, and the best side dish to add to your lunch or dinner table all year round. Easy to make and tossed in with a healthier potato salad dressing. Perfect to serve your family or take to potlucks and parties.
An easy homemade potato salad recipe that's made with baby potatoes, boiled eggs, cucumber, and radishes. then tossed in with a creamy healthier salad dressing that's made with Greek yogurt, mustard, and garlic. So creamy and so good with the right amount of crunch. All that crunch puts a nice twist to the classic potato salad recipe everyone is used to having.
HOW TO MAKE HOMEMADE POTATO SALAD
POTATO SALAD INGREDIENTS:
Baby potatoes
Salt
Eggs
Radishes
English Cucumber
Green Onions
Fresh Dill
POTATO SALAD DRESSING:
Greek Yogurt
Apple Cider Vinegar
Dijon Mustard
Garlic Clove
Salt and Pepper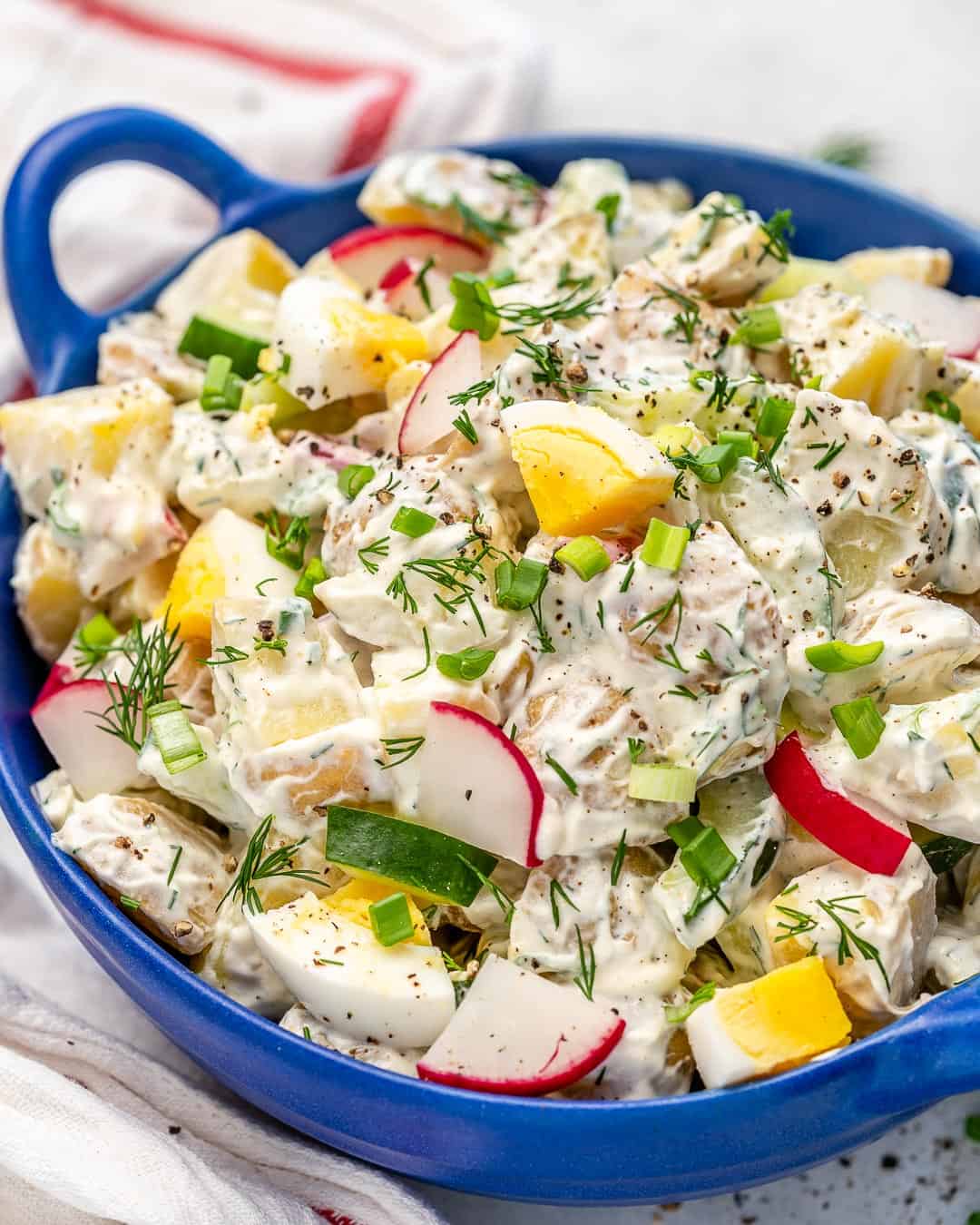 HOW TO:
Mix the dressing ingredients in a small mixing bowl and refrigerate until ready to use.
Bring a large pot of salted water to a boil over medium-high heat. Carefully add the potatoes and eggs and let boil for 8-10 minutes.
Remove the eggs from the water and continue the potatoes boiling for additional 5-10 minutes, or until fork-tender.
While the potatoes are boiling, run the eggs under cold running water to stop cooking, remove the shell and set aside.
Meanwhile, prepare the remaining ingredients. Slice the cucumber halfway lengthwise.
Using a spoon, scoop out the seeds avoiding the flesh and chop. Slice the radish and finely chop the green onions.
Chop the eggs into bite-size pieces. Once the potatoes are done, remove from the heat and allow them to cool for about 10-15 minutes.
Chop them into 1/4-inch thick rounds and place them into a large bowl.
Add cucumber, radish, green onions, eggs and a generous pinch of salt to the potatoes.
Pour the dressing all over the veggies. Mix well to evenly coat.
Cover the bowl with cling film, and refrigerate to enhance the flavors for at least 15 minutes.
Sprinkle some more black pepper and enjoy.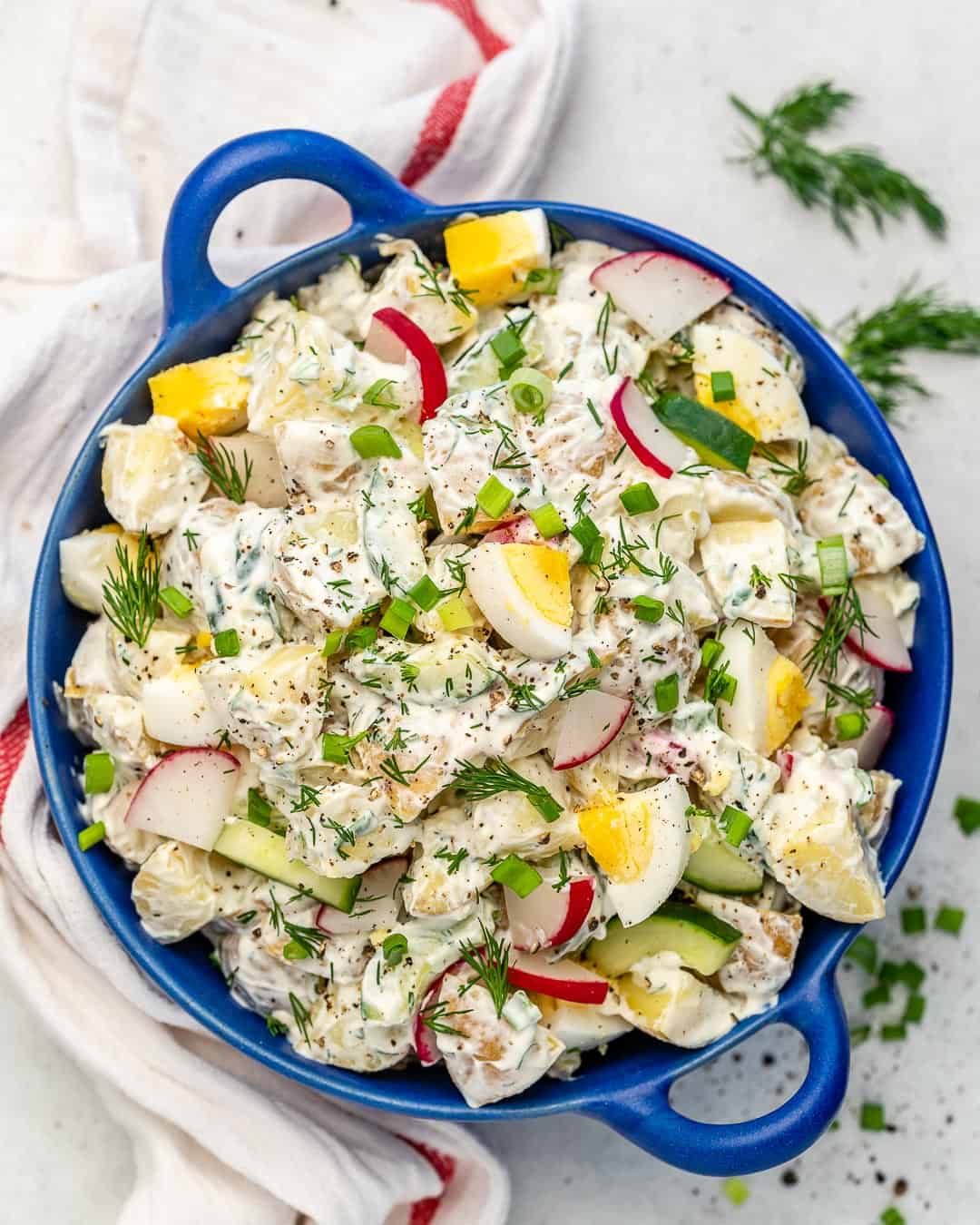 WHAT ARE THE BEST POTATOES FOR POTATO SALAD
The best types of potatoes you should be using for potato salads are baby potatoes, Yukon gold, Yellow Fin, and red potatoes. These types of potatoes are what you call waxy potatoes that hold their form, texture, and shape when boiled and chopped.
HOW LONG TO BOIL POTATOES FOR POTATO SALAD
Baby potatoes or smaller sized potatoes should only need about 15-20 minutes of boiling. If you are using larger potatoes, you may cut them in half before boiling. It is best to boil the potatoes with the skin on and then once cooled, you may either peel the skin off or chop with skin on. To check if potatoes are done, you can use a fork to test by making sure the fork easily goes through the potato.
IS POTATO SALAD GLUTEN FREE
Potatoes are naturally gluten-free. All ingredients used in making this Healthy potato salad are gluten-free. If you are making your potato salad using mayonnaise, make sure you are using a gluten-free mayo to ensure that your potato salad is gluten-free.
CAN YOU FREEZE POTATO SALAD
Potato salads do not freeze well especially if they are made with mayonnaise or contain eggs and dairies like sour cream and yogurt. We do not recommend you freeze this healthy potato salad because it has cucumbers, eggs, and radishes that don't freeze well. Once thawed, the consistency will not be the same and comes out soggy. You will also lose the great taste and crunch of the potato salad after it is thawed. But if you must freeze any leftover potato salad, know what to expect. Place in a Ziploc bag and remove all the air before closing and storing it for up to 2 months.
HOW LONG DOES POTATO SALAD LAST
Store Potato Salads in an airtight container in the fridge for up to 5 days. Potato salads are enjoyed cold and do not need to be reheated. Remove and serve when ready to eat. If it gets watered down a bit, you may add some more yogurt with salt and pepper.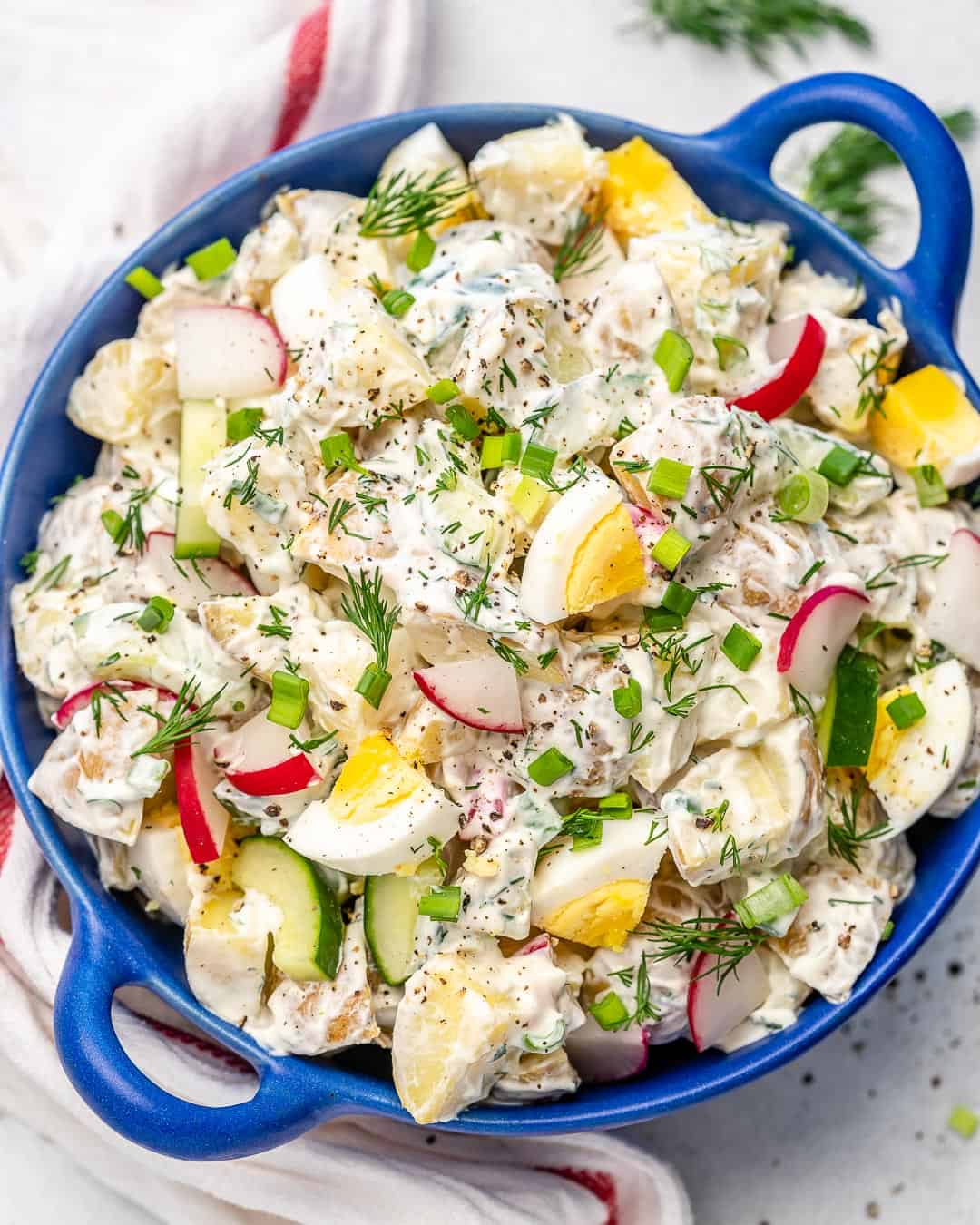 We hope you try and love this simple and easy healthy potato salad recipe. If you do please leave us some feedback in the comments section below. Also, don't forget to share it with your friends and family on social media. We love to see all your creations so tag us on Instagram so we can share your remake.