Recipes
VEGETARIAN BEAN CHILI
EASY VEGETARIAN BEAN CHILI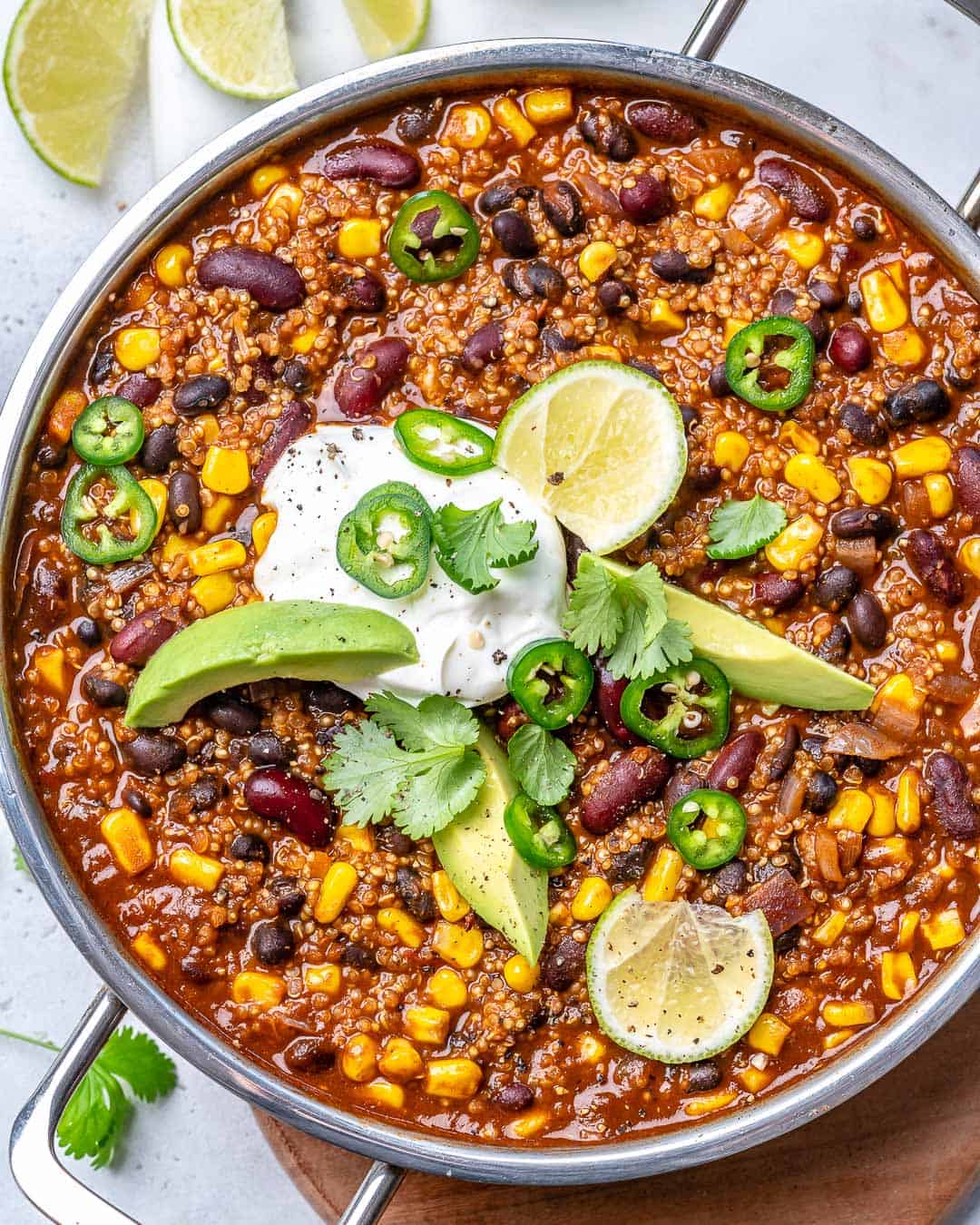 Quick and Easy Vegetarian Chili is packed with delicious bold chili flavor. Hearty, delicious, and so flavorful, this simple chili recipe is so comforting and makes for a perfect meal the whole family can enjoy. 
A warm and comforting vegetarian chili recipe that's super easy to make and so filling. This chili recipe can easily be made into a vegan chili recipe by omitting the cheesy garnishes and the sou cream. Made with red and black beans, corn, bold chili flavors, and Quinoa. This healthy chili recipe is freezer-friendly, filling, delicious, and can be ready in just over 30 minutes.
HOW TO MAKE VEGETARIAN CHILI
First, heat oil in a large skillet over medium heat. Add diced onion and sauté until translucent.
Then, stir in garlic and cook for about 1 minute or until fragrant.
Next, add diced tomatoes, crushed tomatoes, and broth, mix until well combined.
Stir in beans, corn, quinoa, and green chiles.
Season with chili powder, ground cumin, paprika, cocoa powder, salt, and pepper.
Reduce the heat to low, cover and let everything simmer until quinoa is cooked through about 15-20 minutes.
Finally, make sure you stir every now and then to avoid burning on the bottom of the pan. Immediately transfer it to a serving dish, top with shredded cheese and your favorite toppings. Enjoy!
FREQUENTLY ASKED QUESTIONS
CAN YOU FREEZE VEGETARIAN CHILI
Store leftover vegetarian chili without the garnishes in an airtight container and freezer for up to 3 months. Simply remove the night before you are ready to serve and allow it to thaw in the fridge, then reheat either in the microwave or on your stovetop. Also, you may then garnish as needed.
WHAT IS VEGETARIAN CHILI MADE OF
Vegetarian chili is made of a combination of a variety of canned vegetables like beans and corn, canned tomatoes, chili spices, and vegetable broth. Often times, other ingredients are added to it like kale, quinoa, lentils, sweet potatoes. Optional garnishes include green onions, cilantro, avocado, jalapenos, sour cream, shredded cheese, and tortilla chips.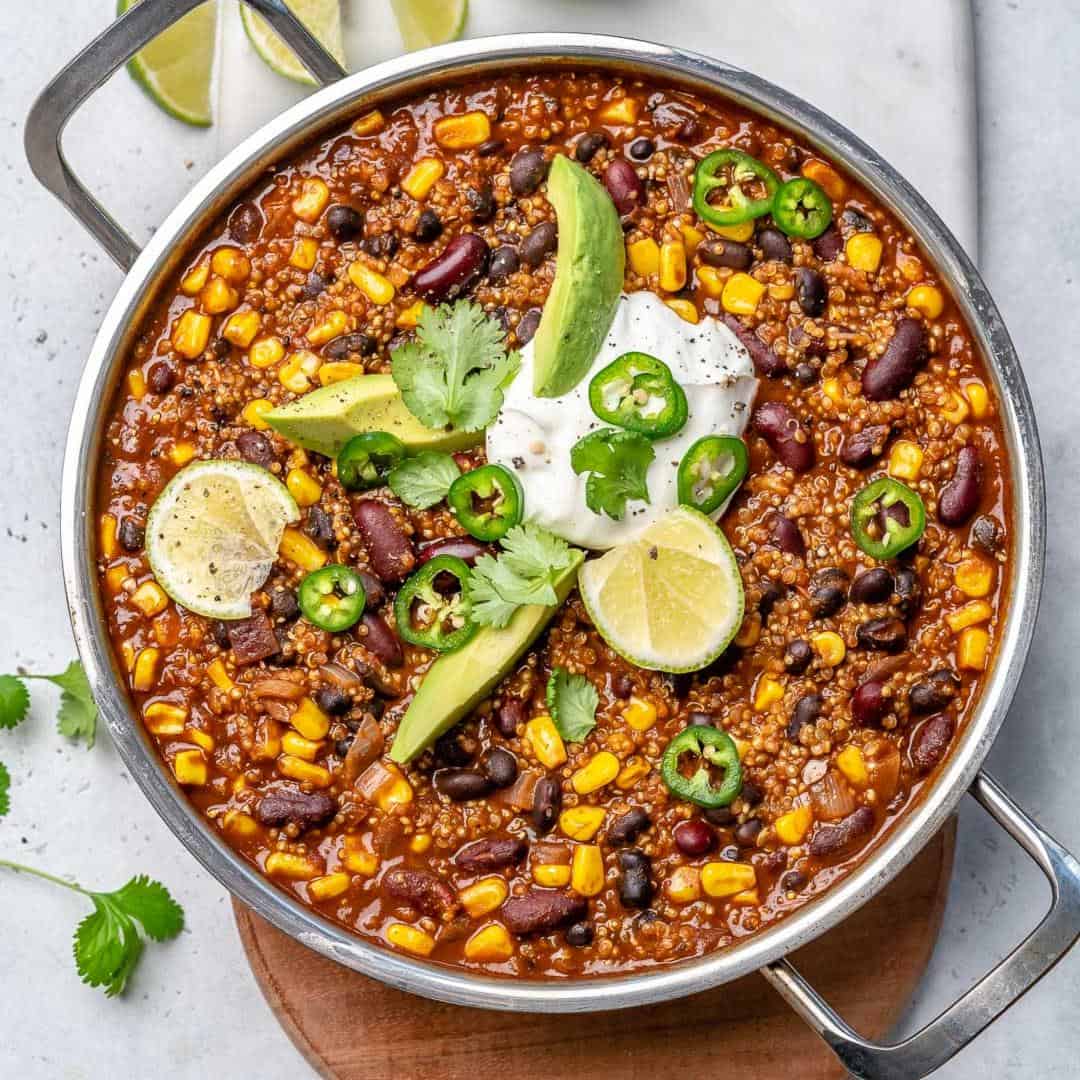 HOW LONG DOES VEGETARIAN CHILI LAST
Tightly seal Vegetarian chili in a container and store it in the fridge for up to 4-5 days. You can freeze for up to 3 months.
WHAT GOES WITH VEGETARIAN CHILI
Serve this vegetarian chili as a whole meal in its own without sides, or can also be paired with things like:
Tortilla chips
Cornbread Or Biscuits
Sweet Potato Fries – Try this Baked Sweet Potato Fries recipe
Mexican Sweet Potatoes
Guacamole
Salads
Rice
This is the best vegetarian chili recipe ever and we hope you love it too! if you try it, please leave us some feedback in the comment section below. Also, don't forget to share it with your friends and family on social media. If you snap a picture of anything you create from HealthyFitnessMeals tag us so we can see it and reshare it!